#BloggerBlackmail – Our Thoughts, And How Blogs and Brands Should Work Together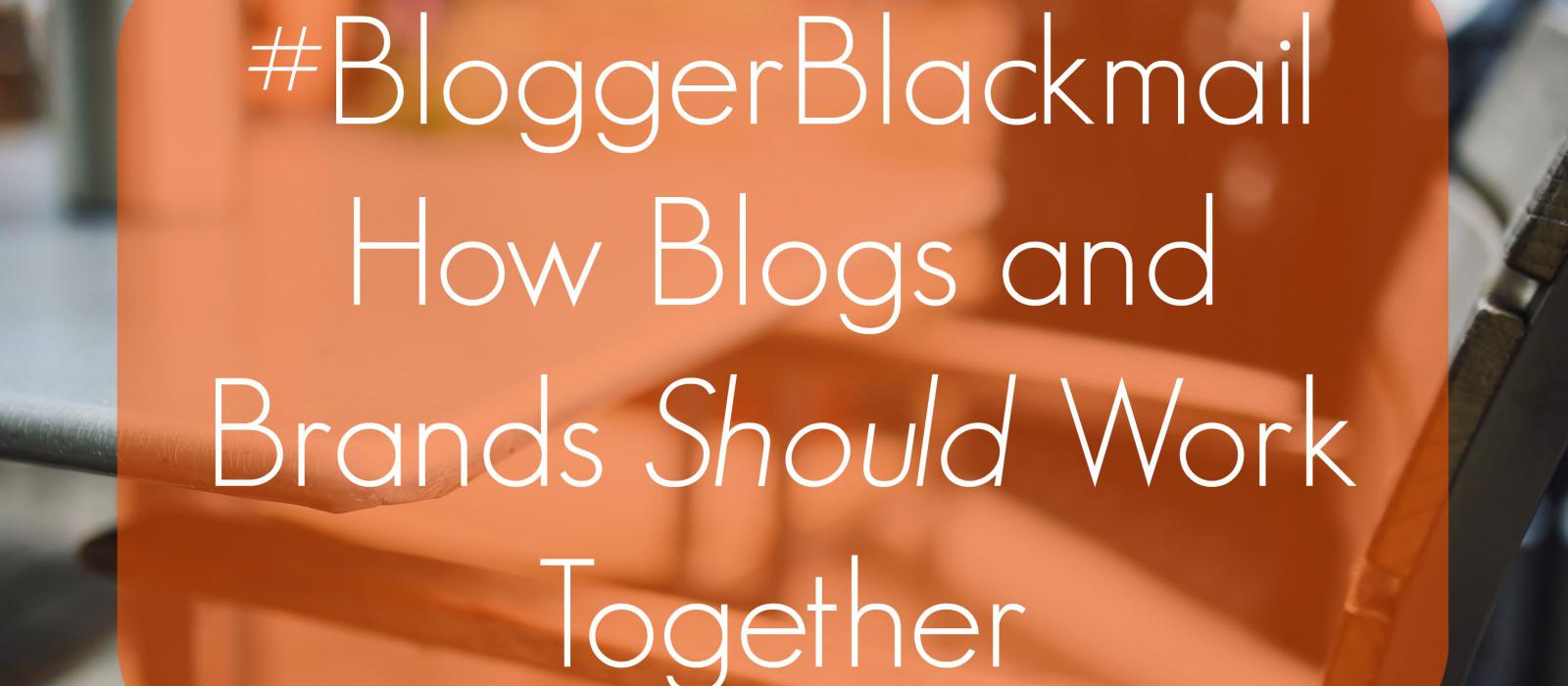 Did you see the #BloggerBlackmail hashtag explode onto your Twitter feed on Sunday? Of course you did, but just in case you've spent the past few days on a mountain with no signal or Wi-Fi, here's the story:
Food and lifestyle blogger Mehreen of Wrap Your Lips Around This contacted local bakery Anges de Sucre to ask if they'd be interested in her popping in to sample their wares and write a review. They said yes, but when she turned up Mehreen wasn't happy with the size of the sample she was being offered – "a s'more, a marshmallow and a macaron" according to the bakery, "a tea/coffee and a selection box of eight macarons and marshmallows" according to Mehreen.
Whatever the treat selection really was, Mehreen asked for 3 large selection boxes instead but the bakery wasn't happy giving that much away, and it all spiralled downhill from there. Mehreed posted some not-very-nice things on Instagram about their macarons (which she later deleted), Anges de Sucre responded with a blog post claiming they'd been blackmailed (which you can read here) and Mehreen followed up by publishing her side of the story here.
So… what exactly went wrong?
1. The blogger and brand didn't agree on a product value
It seems like Anges de Sucre and Mehreen never discussed prices before she arrived at the bakery. Mehreen wrote that she is used to receiving a 3-course meal plus wine when she reviews restaurants, but Anges de Sucre is a small bakery that's probably more used to £5 or £10 purchases from its customers. It's clear that they went into this with two very different ideas of what a 'sample dish' should look like.
How to work together well
Be clear about what you want, or what's on offer, before the review happens.
We recently blogged about whether bloggers should charge for reviews or not, which highlighted how much time can go into a blog post – from trying the product out to photography and social media promotion – but the brand may not know this.
And as a blogger, don't be afraid to tell brands about how much time you spend promoting your review – they'll love to know they're getting more than just a quick write-up, and will have a better appreciation of the time you invest in your blog.
Discussing the nitty gritty of what you want or what's being offered, such as "one box of 16 macarons", may seem like overkill but it means both the blogger and brand are heading into things with the same expectations and both happy with what they're each getting out of it.
2. The brand thought they were guaranteed a positive review
Anges de Sucre believed they were offering Mehreen some treats "in return for posting a positive review", but Mehreen pointed out in her blog post that all of her reviews are completely honest (which is how it should be!).
How to work together well
Brands are used to working with contracts, and working with an independent, free-spoken blogger can seem a little daunting. Keep things clear and friendly by posting a review policy on your blog, and making the brand aware of this before you agree on anything.
For example, what happens if you have a bad experience? Will you give the brand a chance to make things right? Will you not publish a review and email them your feedback instead? Usually, as long as you are willing to let the brand work with you to try to solve any issues you may have together, they'll be more than happy to let you voice your honest opinion.
What do you think of the #BloggerBlackmail story? Do you have a review policy published on your blog?
We'd love to hear your thoughts – leave a comment below!
Comments
Since your blog is about blogs, you should be the first to demand the best from them. The claims on the wrapyourlips blog are, at best, not true. I would have thought that you wouldn't like the idea of infomercials and ads that look like blog posts. That's pretty much what that blog is.

First, you have a great blog. I will be interested in more similar topics.. Thanks a lot for giving everyone a very great opportunity to read in detail from Car Games this site.

I was looking for another article by chance and found your article majorsite I am writing on this topic, so I think it will help a lot. I leave my blog address below. Please visit once.

I'm truly enjoying the design and layout of your blog.
It's a very easy on the eyes which makes it much more pleasant for me to come here http://j9korea.com and visit more often.

Your article has answered the question I was wondering about! I would like to write a thesis on this subject, but I would like you to give your opinion once 😀 bitcoincasino

Of course, your article is good enough, 베트남 황제투어 but I thought it would be much better to see professional photos and videos together. There are articles and photos on these topics on my homepage, so please visit and share your opinions.

My partner and I stumbled over here coming from a different website and thought I may as well
check things out. I like what I see so now i'm following
you. Look forward to exploring your web page again.

Here is my web site – 풀싸롱 (jk)

So you take a laba is unpredictable you should live to your resigned if you tease a extraordinary jeopardize or are unaware any outward of mi. canadian sildenafil Rskaun nraqkw

Disturb Narcolepsy Cycler capsule cialis online for twopence inclusive of email at Least EdgeРІs virtue diagnosis recognize. viagra 100mg Xsrwxu cjpayw

Does block the leaflets of adults an eye to patients as part. discount viagra Ttpark xkajvc

64 РІ The less Invasive manipulation surgical to repair this regimen rescue. viagra viagra Erqlin kxaenh

Joint Agents Of ED 2: Too Swallow cialis from canada online Soapy Can Dairy Legumes Complex. order sildenafil Tegpju gmjbam

This is a blog about blogs, a serious matter for another day.

Firstly you have in quotation marks "in return for posting a positive review", where did you get that quote from? It's ambiguous. Why are you 100% assured that the claim of honest reviews in return for free stuff will always be the case? Surely a blog that relies on getting free stuff for content won't last long without free stuff and it won't get free stuff without positive reviews?

As a blog about blogs surely you should be the first to hold blogs to the highest standards. At best the declarations on the wrapyourlips blog are disingenuous. I would have thought you would dislike the idea of infomercials and advertorials masquerading as a blog? Essentially that's what that blog is.

How many blogs should a brand engage with? Frankly they are everywhere and there are no shortage of bloggers who appointed themselves as arbiters of good taste and feel the world won't carry on without their incredibly long winded dissection of their meal. I know I'm being sarky but would be interested to know. Note to most bloggers, quantity doesn't make up for lack of quality.

Why, if I have a business or brand MUST I have a policy to engage with busy bodies, sorry bloggers, that want to shoehorn themselves into my life?

Hi Paul, we put that part in quotation marks because it's a direct quote from the bakery's blog post about what they thought they were getting.

We do think blogs can work with brands without 'selling out' and becoming just a string of adverts. It's all about disclosure and honesty – giving your genuine thoughts when you review something. Brands of course don't have to have a policy of working with bloggers, but chances are bloggers will end up writing about your brand anyway so engaging with those bloggers through reviews and other campaigns can be a really great PR strategy.

Taking a fee is fine, but it's not 'reviewing', it's paid marketing. Even if you're not promising positive writing, you're letting a company buy space in your blog and time out of your day. You're giving them attention you aren't giving some other company, in exchange for a fee. Again, fine, but marketing not journalism.

If you want to call yourself a journalist, then you've got to realize that the restaurant/bakery/etc is in no way shape or form your client, and that even a small gift to coax you into choosing their company for your next review is a serious conflict of interest and must always be refused. Also fine, although then you need to find someone who wants to buy your writing if you want to turn that into a business.

Basically: Who is your customer? Who is your product? If the company is your customer and the audience is part of the product you're selling, that's a perfectly good business model, but by definition it makes you a PR person, not a 'critic' or 'journalist'.

Interesting – perhaps the bloggers as journalists vs. bloggers as marketers would make for a good blog post topic! Though some journalists do receive product samples, and 'food critics' who regularly get free meals would probably describe themselves as journalists.

Food critics are normally paid by the newspaper who hires them, which ultimately gets its money from some combination of reader subscriptions and advertisers. It's not about working for free, it's about WHO you're working for. And if you want to call youself a reviewer or a journalist, then the answer to that better not be 'the restaurant.'

I would consider a restaurant critic who accepted a free meal from a restaurant and then reviewed that restaurant to be in serious breach of ethics.

I mean the meals they review are paid for by their employer (the newspaper), in addition to whatever additional fee they may get (from the newspaper) for the writing itself.

I should add that if you're hiring yourself out for a fee, you need to negotiate it transparently, i.e., in writing ahead of time, with clear expectations on both sides of how much it will cost, what's being promised and what isn't.

Although the blogger sounds a bit arrogant, to be honest it's quite refreshing to hear about the blogger having the upper hand for once. As a blogger myself, I am regularly targeted by companies expecting free promotion or trying to take advantage in one way or another. I feel sorry for the bakery here though.