CollectivEdge announces Bloggers Running Britain 2013
At CollectivEdge HQ we've been rather busy over the last few weeks putting together a list of the bloggers who we think are making a real impact in their individual sectors and niches here in Blighty.
We were so bowled over by the way these bloggers are shaping the nation that we thought we'd put a list together, so you can see who we've fallen head over heels for.
The Bloggers Running Britain Survey of 2013 includes a Geordie football writer with over two million worldwide followers, a debunker of bogus science, a movie blogger who also monitors Hugh Grant's undulating career, and a commentator on alternative weddings.
We think these bloggers are worthy of the Bloggers Running Britain title but what do you think?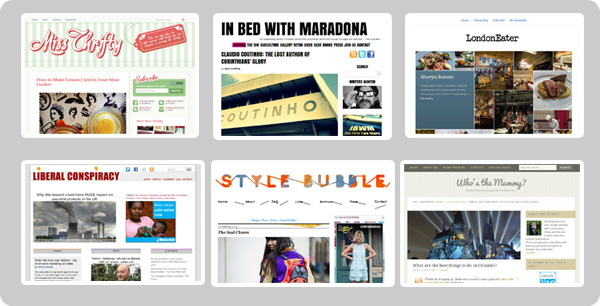 A selection of the blogs in our survey including, from left to right; Miss Thrifty, In Bed With Maradona, London Eater, Liberal Conspiracy, Style Bubble and Who's the Mummy?
The Bloggers Running Britain Survey 2013 includes:
Category: Film
Name: Charlie Lyne
Site: http://www.ultraculture.co.uk
About: Charlie was just 16 when he started this now hugely successful UK film blog in 2008. Five years on and Ultra Culture has grown but retained its biting wit and opinionated film reviews. Enjoyed by his thousands of readers – and 11,000 Twitter followers  –  Charlie is famed for his irreverent commentary and kooky off-tangent topics, such as Grantwatch, an unfailing dedication to the films of everyone's least favourite British film luvvie, Hugh Grant.
Category: Football
Name: Jeff Livingstone
Site: http://inbedwithmaradona.com/
About: IBWM was launched in 2010 by Geordie soccer nut Jeff Livingstone and has grown to two million global readers a month with a staff of five.  IBWM plays host to numerous bloggers, journalists and photographers who all have one thing in common; the beautiful game. IBWM is also not afraid to tackle big issues touching soccer including homophobia and racism.
Category: Personal Finance
Name: Karyn Fleeting
Site: http://www.miss-thrifty.co.uk/
About: Her fans love Karyn, aka Miss Thrifty, for sharing her tips on living a thrifty but fabulous lifestyle. Able to turn insurance advice into must-read posts, Karyn covers bargains in every area, from food and entertaining to holidays and fashion. She claims to have reduced her own family's food bill to just £60 a month. Receiving over 25,000 hits a month has ensured her thrifty views and tips have been featured in The Independent, The Times and Cosmopolitan magazine.
Category: TV
Name: Rob Buckley
Site: http://www.the-medium-is-not-enough.com/
About: For most of us watching the telly of an evening is a way to wind down and relax, but for Rob Buckley it's his blogging bread and butter. With reviews of cult classics and up and coming US and Brit television shows, The Medium is Not Enough is fast becoming essential reading for TV buffs, with over 50,000 hits a month.
Category: Education
Name: Martha Payne
Site: http://neverseconds.blogspot.co.uk/
About: While nine year old Martha doesn't blog about education in the strictest sense, her Never Seconds blog, chronicling her dubious school dinners, has raised over £90,000 for Mary's Meals, a Scottish charity providing school feeding projects in third world countries. Martha has gained support from celebs such as Jamie Oliver and her simple idea has grown beyond belief in just 10 months.
Category: Gardening
Name: Stephanie Donaldson
Site: http://blog.theenduringgardener.com
About: Gardening blogs can be an invaluable resource for keen gardeners and Stephanie's site and accompanying blog is no different. The Enduring Gardener brings together tips, event listings and offers in one place, plus detailed tutorials that Stephanie and her team share on the site.
Category: Tech
Name: Ben Gillbanks
Site: http://www.binarymoon.co.uk/
About: In internet terms, Bill is practically a Godfather of the web, first appearing on the scene in 1998.  As a professional WordPress developer, Ben's blog gets over 150,000 visitors a month and is a resource for web designers, WordPress developers, gaming fans and more.
Category: Music
Name: Luke Glassford
Site: http://all-noise.co.uk/
About: Most blogs emerge from a writer's passionate interest in a particular subject, and Luke's music blog, All-Noise, is no different. When Luke set up his blog in 2010, it had the simple aim of highlighting and celebrating 'proper music' – from rock and indie to hip-hop and electro. This blog is one to watch and essential reading for the latest album, single and gig reviews.
Category: Food
Name: Niamh Shields
Site: http://eatlikeagirl.com/
About: Food porn doesn't come any better than Niamh's blog. No, we don't mean that kind, we mean chorizo meatballs, banana fritters and much, much more. With unique recipes, restaurant reviews and scrumptious photographs, it's no wonder that Eat Like a Girl has topped numerous foodie blog awards.
Category: Fashion
Name: Susannah Lau, aka Susie Bubble
Site: http://www.stylebubble.co.uk/
About: The definitive name in fashion blogging, Susie is one of Britain's most well-known bloggers. Her personal style and commitment to showcasing new designers has made Style Bubble a daily destination for fashion-hungry readers. With around 300,000 unique visitors a month, Susie has grown her blog into a full time business and is a regular at Fashion Weeks across the globe.
Category: Restaurants (maybe Eating Out?)
Name: Kang Leong
Site: http://londoneater.com/blog/
About: With 75,000 visitors a month, Kang Leong's London-based blog features mouth-wateringly good reviews of the Capital's best eateries.  London Eater began after Kang decided to have a crack at writing his own restaurant reviews, after taking inspiration from his 2002 Time Out Guide. This blogger knows his cote de boeuf from his béarnaise sauce and has thousands salivating at their desks every lunchtime.
Category: Travel
Name: Anna Silva O'Reilly
Site: http://mrsoaroundtheworld.com/
About: Hailing from Portugal, Anna, who goes by the name Mrs O, is an avid traveller and has clocked up more air miles in a month than most people's footsteps. Her insatiable thirst for new vistas and adventures is rapidly making her one of the fastest-growing travel writers online.
Category: Interior Design
Name: Pippa James
Site: http://www.pippajamesoninteriors.co.uk
About: Pippa started her blog after the birth of her first child in 2008 so she could keep one foot in the world of interiors while on maternity leave. Since then Pippa James Interiors has grown to become one of the most well-respected interior design blogs in the UK, winning blog awards and featuring in print and online publications across the world.
Category: Kids and Parenting
Name: Sally Whittle
Site: http://www.whosthemummy.co.uk/
About: With 12 years of experience as a journalist under her belt, Sally Whittle knows a thing or two about writing. Who's The Mummy chronicles her adventures of being a mum to her seven year old daughter. Sally's blog is consistently voted as the number one parenting blog in the UK and her honest and opinionated posts make for perfect parental reading.
Category: Wedding
Name: Kat Williams
Site: http://www.rocknrollbride.com/
About: Wedding blogs don't come much bigger or bolder than Rock n Roll Bride. Since launching in 2007, Kat's alternative real life wedding posts have gained her tens of thousands of Twitter followers and Facebook fans, and she now runs the site full time. The blog has since spawned its own print magazine and Kat has appeared in Cosmopolitan, Wedding Ideas and Unique Bride.
Category: Arts & Crafts
Name: Laura Howard
Site: http://bugsandfishes.blogspot.co.uk
About: Laura has turned a passion for crafts into a career and her blog has become a go-to source for every craft magazine under the sun. Bugs and Fishes chronicles her artistic endeavours, from running her business to finding inspiration for her latest craft book. With over 50,000 readers a month, Laura's tutorials and inspiring words are reaching a growing audience.
Category: Eco Living
Name: Rachelle Strauss
Site: http://littlegreenblog.com/
About: Eco living isn't just a buzzword, it's a way of life for Rachelle, otherwise known as Mrs Green. Along with her husband, Mr Green, this blogger is committed to showing her eco aware readers how they can incorporate green living into every area of their lives. Her posts on environmentally friendly gardening, technology and health matters have us hooked.
Category: Beauty
Name: Essie Button
Site: http://www.essiebutton.com/
About: When this beauty blogger moved from her native Canada to London, she set up her blog as a way to meet new people and share her beauty tips. Since launching two years ago, the site now has over a hundred thousand subscribers. From her informative reviews to her bubbly personality, captured on her blog, it's not hard to see why her YouTube videos have also garnered over 5,000,000 views.
Category: Science
Name: Ben Goldacre
Site: http://www.badscience.net/
About: Doctor and academic Ben Goldacre is on a mission to debunk suspect scientific claims from drug companies, government reports and the media. His passion to expose 'bad science' has won thousands of visitors to the site and has also lead to two books, numerous public speaking and television appearances and over 250,000 followers on Twitter.
Category: Politics
Name: Sunny Hundal
Site: http://liberalconspiracy.org/
About: Thirty-five-year-old journalist Sunny founded several political groups before launching the Liberal Conspiracy blog in 2007. The blog features a collection of news, features and opinion pieces by left-wing bloggers, with an unflinching approach to covering politics in Westminster and beyond. With over 15,000 followers on Twitter and tens of thousands of visitors each month, this blog is a must for the liberal left.
Comments