Blogging on the Go: 7 Apps to Make Blogging Easier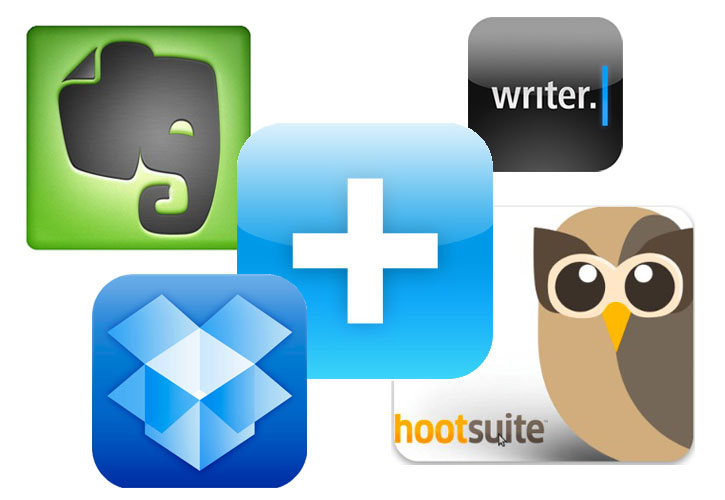 If you're feeling rushed off your feet you're not alone – many of us barely have the time to brush our hair, let alone sit down at a work station to write for hours on end. With the world becoming increasingly fast paced, bloggers have to be savvier with their time, whether that means writing in the queue at Tesco or updating your social media accounts on the school run.
Fortunately, modern technology has adapted to fit in with our mobile lifestyles, and there are a whole host of apps out there to help you manage the 24/7 task of blogging.  From virtual notebooks to dictation software, your blog doesn't have to suffer because you're busy.
Here are seven on the go apps we love.
This handy app is basically Photoshop for your iPhone or iPad. Whilst there are a number of deluxe versions, the free version has all the features any blogger could wish for. With 20 filter options and the ability to change contrast, exposure, highlights, shadows, temperature, and tint, as well as crop or rotate images, you can easily create professional looking photos on the move.
Price: Free| Platform: Android, iPad or iPhone
Find it hard to write with distractions? Writer could be perfect the app to help you craft posts on the go. In essence, it's a basic notebook app, which allows you to freely express your ideas on a blank page. The 'Focus Mode' fades everything except the current three lines of text, helping you to concentrate. You can also view file properties such as word count.
Price: £2.99| Platform: Android, iPad or iPhone
If you want to blog when out and about but don't like typing on your phone, the Dragon Dictation app could be the answer. It recognises and transcribes your speech, making it easy to create short blog posts or leave yourself memos for later. You can also speak your Twitter or Facebook updates.
Price: Free | Platform: Blackberry, Apple iPad or iPhone
Writing a post and suddenly have to dash out? Drop Box is an indispensable app for any blogger, letting you pick up a post where you left off, wherever you are. Simply save any files you need into your account, and you can easily access them from any device via the handy app.
Price: Free| Platform: Android, Apple iPad or iPhone
Make the most of that commute to work or even the queue at the supermarket by catching up on your favourite blogs with Bloglovin. Reading other blogs is part of the fun of blogging, and this app making reading on the go super easy, by collating blogs you follow into one easy to read format.
Price: Free| Platform: Android, Apple iPad or iPhone
If you're looking for a more comprehensive 'notebook' app, then Evernote could be the one for you. It performs a variety of functions allowing you to create audio recordings, sketches and to-do lists. You can then access this material from all your devices, so you'll never forget a brainwave again.
Price: Free| Platform: Android, iPhone or iPad
If you're on the move it can be nigh on impossible to continuously update your social media. The Hootsuite app allows you to schedule posts for Twitter, Facebook, Instagram, Google Plus and more in one go, so that updates are published automatically over a period a time. Even better, this godsend for social media management is free.
Price: Free| Platform: Android, iPhone or iPad
All of these apps should help to integrate blogging with your hectic lifestyle. Do you have any more app suggestions for blogging on the go? Let us know in the comments!
Comments