Checklist: 10 Blogging Resolutions for the New Year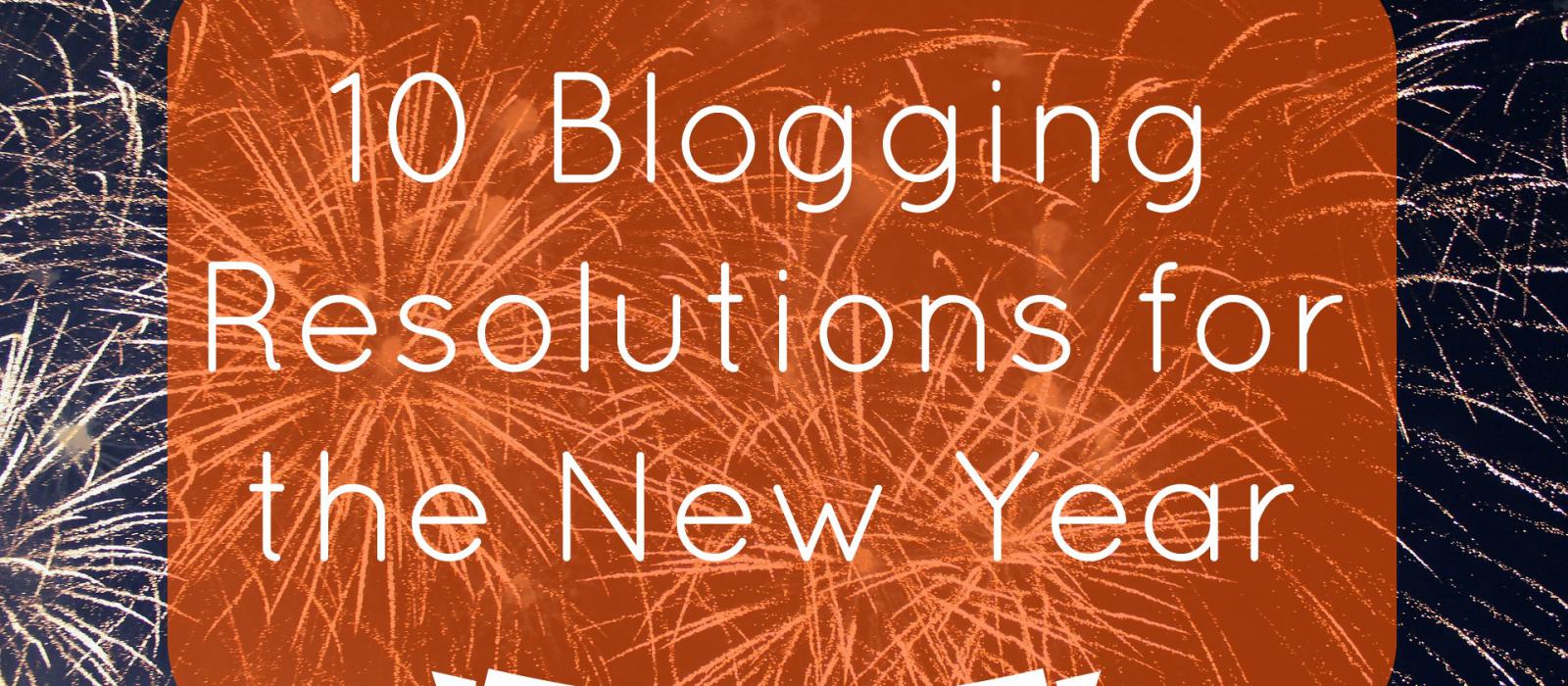 Can you believe another year has passed us by? So much has happened in 2015, we've seen a general election, a solar eclipse, the first GB Davis Cup win since 1936 and most recently the first Brit dock at the International Space Station – but now it's all drawing to a close, we're thinking of the best ways to make our blogs even more fabulous come 2016.
Resolutions can sometimes be a tricky topic, with many of us breaking that promise to give up wine or go to the gym by January 2nd. But we're hoping with these 10 straight talking resolutions you'll be able to stick them out for a little longer than usual.
Let's get started.
Start a Vlog
With the meteoric success of vloggers on the up and up, with book launches, make-up lines and the like, what better time is there to get involved and create a channel of your own to accompany your blog? The benefits are in abundance, like connecting personally with your audience and practicing your public speaking.
Not convinced? Take a look at our post to discover the pros & cons.
Treat your Readers
No matter how many or how little, your loyal blog readers have stuck with you through thick and thin. Why not find the time to reward them in the New Year? A blog giveaway is the perfect way to show them your appreciation whilst building a new audience and promoting your blog also.
Don't know how to go about hosting a giveaway? Follow our advice.
Host a Blogger Meet Up
If you're a pretty established blogger and you've attended plenty a blogger event 2016 could be the perfect time to host your own. The idea of planning a whole event may seem a little daunting, but with plenty of preparation and the help of your blogger friends it will be a fun filled day you'll never forget!
Wouldn't know where to start? Take a look at our comprehensive guide on how to host a blog meet!
Use an Editorial Calendar
A new year means a new calendar, and not only that but a shiny new editorial calendar too! If you don't already have an editorial calendar for your blog, 2016 is definitely the time to change that. Keeping track of upcoming and past blog posts can be so handy when it comes to planning new content and for making sure you're frequently posting for your wonderful readers.
If you don't know how's best to use or create an editorial calendar, check out our blog post.  
Give your Blog a Spring Clean
Quite frequently we've found that after a while your blog can start to look a little cluttered and messy, there is a simple fix to this however but it can be a little time consuming. Why not find sometime in 2016 to give your blog a little spruce up. Checking external links and removing unwanted sidebar badges is a good start, and you'll notice the world of difference on your blog when you've finished!
If you need a little helping hand, take a look at our advice
Rebrand Your Blog
If you want to go a step further than a little blog clean-up, a complete rebrand may be more appealing. As it is a New Year it seems fitting to have a brand spanking new blog. But be warned it isn't an easy ride, completely redesigning your theme and changing your blogs name take a lot of work – but the end result is always worth it!
Rebrand your blog without the potential of losing followers, with our advice.
Invest in some props for better product photos
If you're a beauty blogger products are usually the focus of your shots. In the recent months past we've seen a growing trend of perfectly laid out product shoots including props that can vary from anything to everything – books, pearls and coffee are amongst some of the popular we've seen. Investing a little time and very little money into product photos can surprisingly make a big difference, and it's a simple resolution to make.
Start a Blog Newsletter
If you're looking for a way to engage with your readers even further, a newsletter is a great way to connect with readers on a different level. Sharing your latest posts, advice and gossip in one handy place is a really good way to keep your readers in the loop, drive more traffic to your blog and even build relationships.
Need persuading that your blog needs a newsletter? Take a look at our tips!  
Get Your Head around Google Analytics 
If you're looking to get down to business with your blog in the New Year, look no further than Google Analytics. If a big plan of yours in 2016 is to monetize your blog, it's worth getting to know the basics of analytics first. Use the super tool to find out how to increase traffic, increase blog content, and improve your social media outreach and so much more.
Take a look at all our guides on Google Analytics to get started!
Take a Blog Break without Fear of Losing Readers
Sometimes juggling your blogging world and your real world can be difficult, and taking a blog break is needed. However, a lot of you dedicated bloggers worry that taking time away from the screen to refresh and revitalise will be detrimental to readership. If you take a few precautionary steps such as scheduling posts  or considering guest posts  you can take a much deserved holiday from blogging without consequences.
Not certain if taking a blog break is right for you? We look at the pros & cons on our blog. 
Are you making any resolutions in 2016? Let us know what they are in the comments below!
Comments
Happy New Year! Those are some great resolutions. I would like to do more infatmorional health posts (take up so much time & research though) & find some more new, fresh content. Blogging can be tough work sometimes! Love it though!

Excellent and very informative article. Its really helps me to improve my blog in new year. Thanks again 🙂