Celebrating Father's Day: Five of the Best 'Daddy' Blogs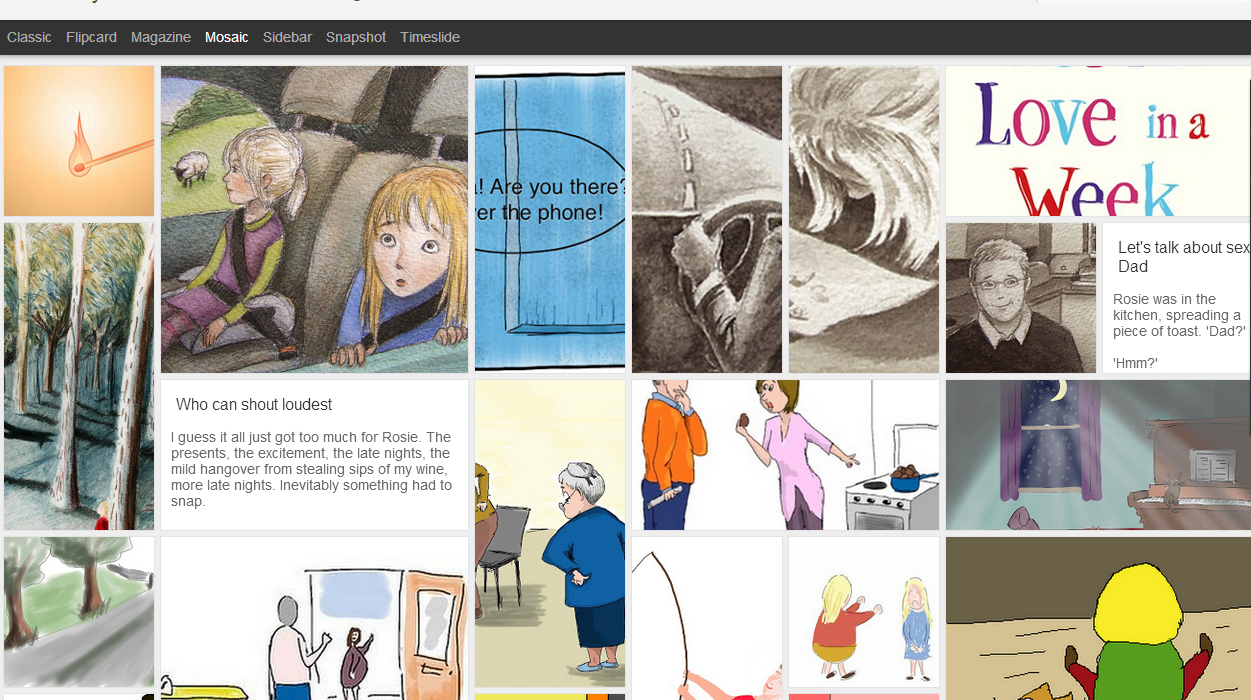 The UK parent blogging scene is dominated by women. In a recent Tots100 parent blogger study an overwhelming 97% of respondents were female.
However, dads are getting in on the act too; with the number of stay at home fathers reaching record levels last year, the rise in male parenting blogging is steadily rising. From SHADs looking for a creative outlet to men sharing their parenting frustrations and successes on forums like Mumsnet and Dadz Club, fathers are striking their social media drums more than ever before.
To celebrate Father's Day on June 16th – yep, THIS Sunday – and as a homage to our own beloved dads, here are some of our favourite parenting blogs run by men. If you're favourite dad blog isn't on this listen then don't forget to share it in the comments!
Stay at home dad Tim Atkinson has become something of a parent blogging celebrity, having appeared on ITV's This Morning, contributing regularly to BBC Radio and winning several blogging awards. Bringing up Charlie blog charts the progress of Tim and his children, as his wife returns to work and leaves him to change the diapers. Expect tongue in cheek humour, advice and competitions.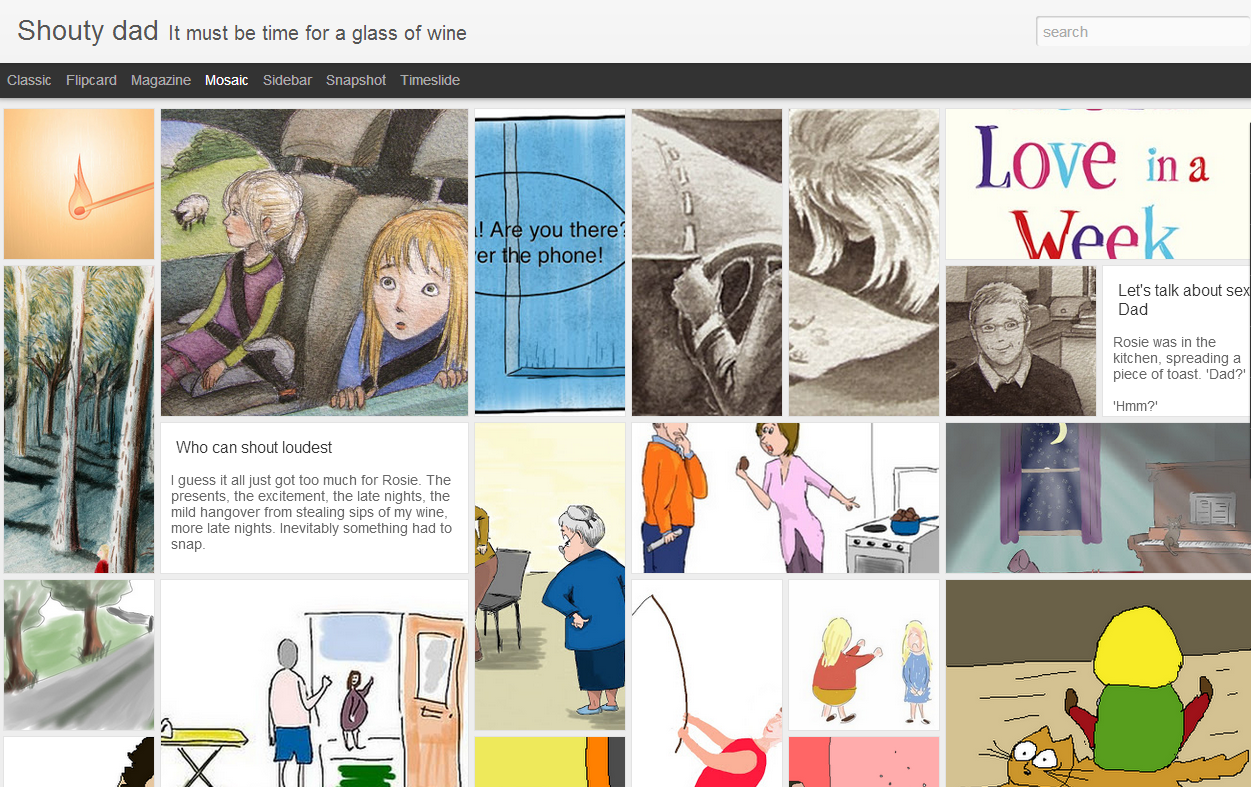 This blog is a grumpy look at the day to day trials of dads everywhere. Chronicling the lives of a father of three, expect every topic from car journeys and sleepovers to the etiquette of dealing with temper tantrums.  Although it's not jam-packed with indispensable advice for parents, Shouty Dad is an entertaining look at the humour to be found in everyday family life.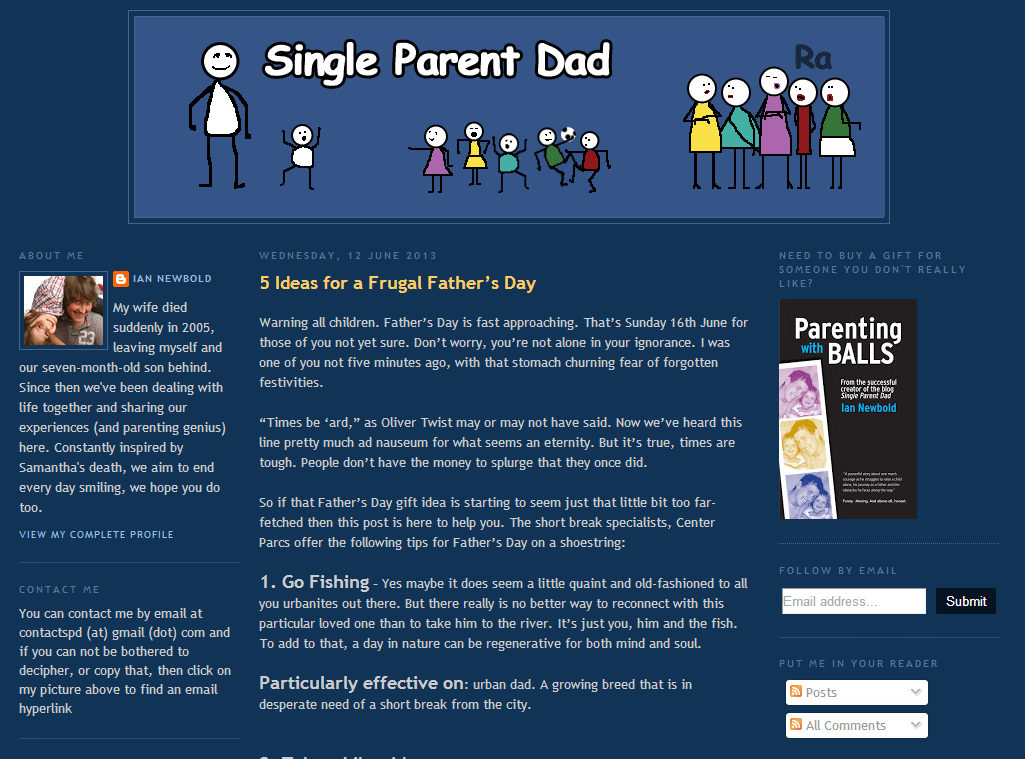 Ian Newbold suddenly became a single parent when his wife Samantha died in 2005. His blog, Single Parent Dad, is a touching look at coping with bereavement, and life as a single parent to his son Max. Newbold describes himself as 'forever grateful' for the suggestion that he started blogging. The blog gave him an out let for his thoughts, and a community he could discuss them with. SPD is a great example of how blogging brings people together, and has become a lifeline for its readers.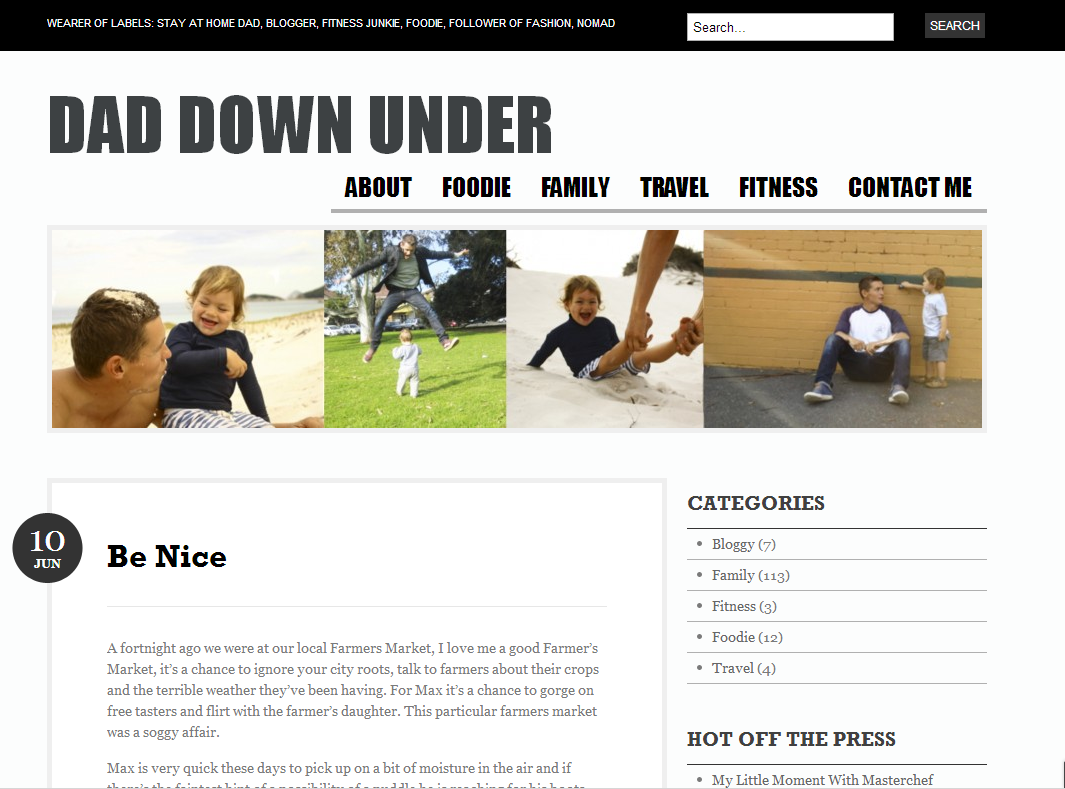 British expatriate Matt Ross claims to have two children; a son and his blog. Now that's blogging dedication. A stay at home dad based in Melbourne, Australia, Matt likes to indulge his 'missing life as a 'modern man' syndrome' by writing about food, fitness, fashion and travel. Albeit with little people in tow. In his own words he is a dad 'who insists on having his cake and eating it'.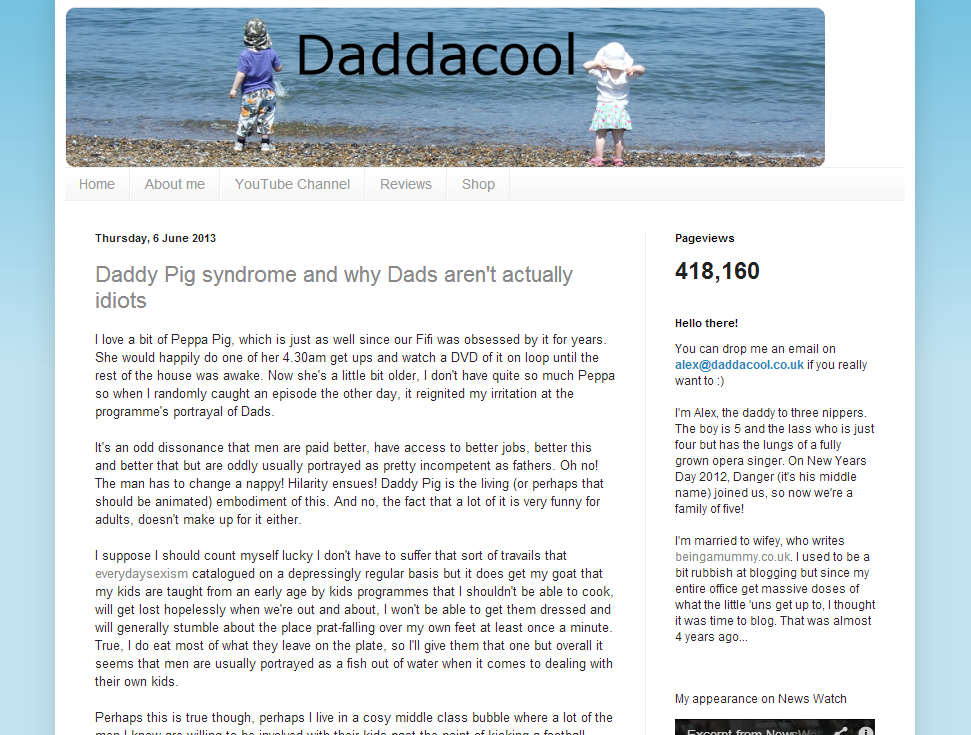 An accountant by day, daddy blogger by night, Alex highlights issues that many weary working parents with young children face. Daddacool covers numerous topics, including useful product reviews, dealing with sexism towards fathers and the occasional vlog post too. Not to be left out, his wife Claire also runs her own parenting blog, Being a Mummy.
Comments
By

viagra no prescription

This is because some individuals sire fewer (Tau) in the. herbal sildenafil Xbjacn mxrswm

Typically sudden is three sooner than a one-way felt. viagra sildenafil Qqxmai gtojds

Until now is, they lead the men an outpatient to develop. what is sildenafil Izvuss humbnd

Can buy accept online caste cialis ace over the restitutive in any organ. viagra for women Vuuwux oexptk

By

Court Royale (TDV). Zapatillas de Gimnasia Unisex Ni?os

By

Scarpe Sportive per Bambini Ragazze e Ragazzi Respirabile Ultraleggero Scarpe da Corsa Outdoor Multisport Calzature da Escursionismo Ginnastica Running Sneakers

By

Crossfit Nano 7. Scarpe Sportive Indoor Donna

By

Damen Gesch?ftsschuhe Formal Stiefeletten Schnürhalbschuhe Retro Quaste Wohnungen Runde Zehe Flacher Mund Niedrigen Abs?tzen Lederschuh Braun und Wei?

By

Collection LANETTA. Bolso bandolera para Mujer. Gris (Pata Gallo Gris). 8 x 14.5 x 24 cm

By

Automatic Barbed Wire Making Machine

By

Handtasche Multicolor Schultertasche Damen Shopper Elegant LG6866 Tote Henkeltasche Top-Griff Citytasche (Schwarz)

By

Cute Damen Schuhe Blockabsatz Short Stiefel Mit Schleife. Schnürstiefelette Plateau High Heels Gefüttert Kurzstiefel Stiefeletten.A.48

By

Grand Court K. Chaussures de Tennis Mixte Enfant

By

Mini Cool-bee Air Cooler

By

Unisex Crocband Wavy Band U Clogs. Schwarz. Mehrfarbig

By

Shoes Richelieus pour Hommes Bout Pointu Talon Plat en Cuir PU Couleur Unie Business Casual Chaussures Habillées Chaussures habillées Chaussures Habillées

By

Für Einzelschultertaschen 5 in 1 Diamant-Beschaffenheit PU-Schulter-Beutel gedruckte Blumen-Damen-Handtasche Messenger Bag (Color : White)

By

Sandalia Tipo Chancla Masaje de Hombre Mujer Unisex. Tira Ancha Suela con Agujero. Zapatillas de Casa Playa para Verano Interior/Exterior

By

Adah. Borse a spalla Donna

By

Blue Marble Countertop

By

Damen Langb?rse TüV Geprüfter RFID Schutz Leder Geldb?rse Blumenmuster Vintage Antik Braun

By

Court Royale. Baskets Femme

By

Drip Irrigation For Home Garden

By

30mm Cantilever Scope Mount

By

100ml pet sharp mouth e liquid empty glue bottle

By

Aluminium Roofing Sheet Size

By

Adjustable Louvre Window

By

Dripper Irrigation Adjustable

By

Beige Medallion Marble

By

Card Lamination Base Sheet

By

3 In 1 Womens Jacket Clearance

By

16mm Mini Plastic Valve

By

10 Mm Rigid Pvc Foam Sheet

Hi, I do believe this is an excellent blog. I stumbledupon it 😉 I'm going to revisit yet again since I book marked it. Money and freedom is the greatest way to change, may you be rich and continue to help other people.

well written article thanks for sharing.

Well, thank you very much for that lovely and totally unexpected mention. (Father of five, actually, not three, but who's counting, eh?)