Google+ Authorship: Does Your Blog Need it?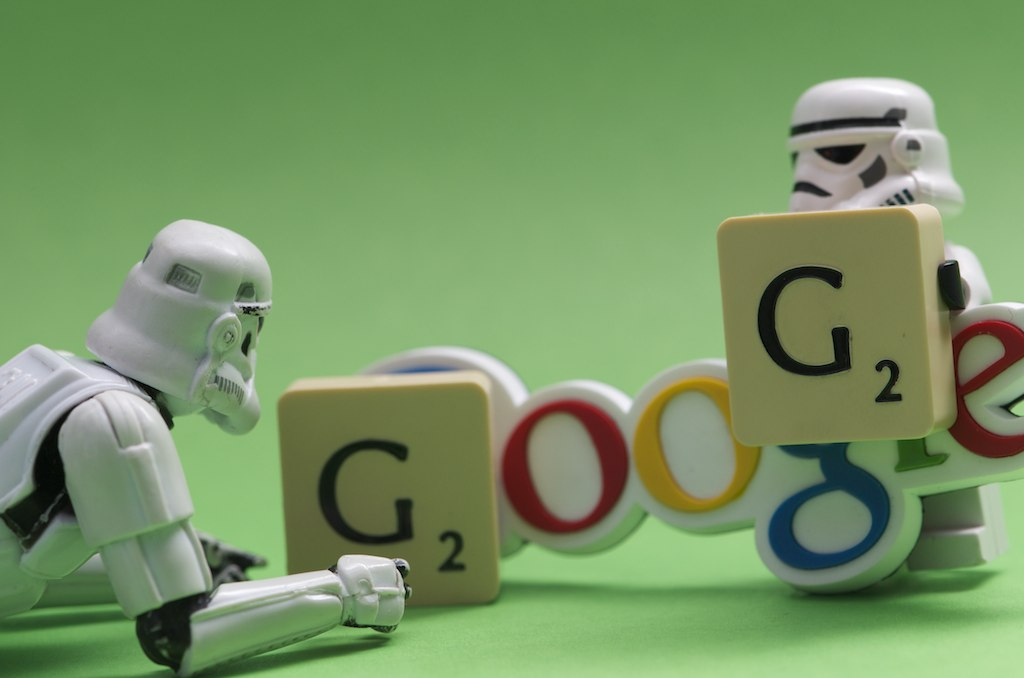 Image source
As a blogger, you spend hours carefully crafting and researching your blog posts to make sure they have maximum benefit for your readers – but does Google know that you are the author of this content?
If the answer is no, then you're missing out on a relatively easy way to build your online reputation and authority – Google+ Authorship. This is essentially a way of letting the search engine connect you with your great, quality content, and, in a world where Google arguably holds all of the cards, it's likely to be a good thing.
So, how does Google+ Authorship work, and how can it benefit you?
What is Google+ Authorship?
When Google+ was launched in 2011, many people thought it would just be yet another social network. Initially, no one really took the platform that seriously – after all, did we really need another Facebook or Twitter?
Three years later and Google+ has established itself as a game changer, with Google+ Authorship being one of its most important features. It allows authors to claim the content they create, as well as making it easier for search engine users to find more content by the same writer.
The idea is that an author can build trust and rank (known as Author Rank) based on this content, and Google has clever ways of verifying its quality – for example if a post is frequently shared and +1'ed it communicates to the search engine that it offers value to the reader.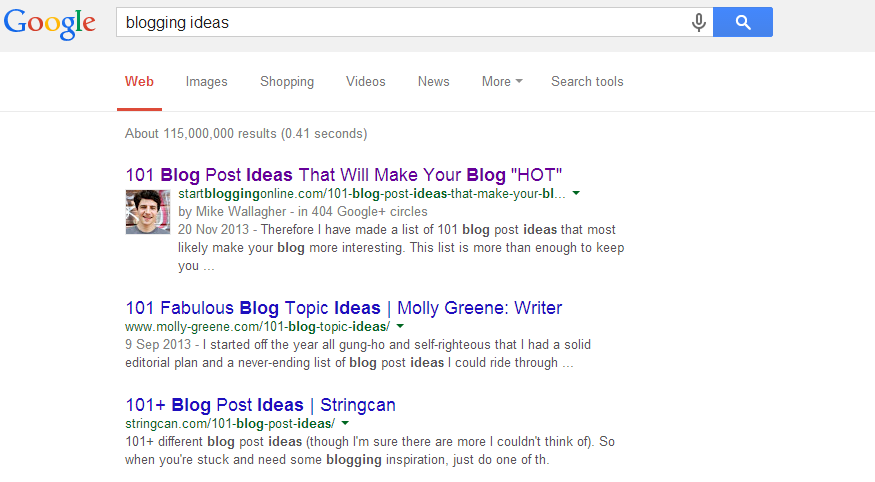 Should You Have It?
Implementing Google+ Authorship on your blog has a number of benefits:
Stand Out – Authorship will make you stand out more in the search results. It means that your picture will be included, which makes the link to your content more appealing to browsers, see image above.
Build Your Reputation – Authorship allows people to easily associate you with your content. This will build your reputation as an expert in the areas you specialise in.
Build Trust – Showing people that you have a Google+ account and including your photo in search listings separates you from all the 'faceless' content creators. Users tend to associate this with reputable content from a real person who they can trust.
Author Rank – Google has recently confirmed that they use an 'Author Rank'. This could potentially influence how highly content ranks in search results, dependent on the authority of the author.
There are a couple of potential negatives to Google+ Authorship:
Lack of Privacy – Google Plus requires you to use your first and last name and a 'recognisable headshot'. Whilst the rules have been slightly relaxed – you're now allowed to use a nickname as well as your first and last name – this can be problematic for those who have a successful online persona or simply want to retain their privacy.
Does it Really Work? – Some experts have argued that authorship is only useful as a form of validation, and doesn't actually have any impact on click through rates.
Could People Miss Your Content? – There is always a risk that people will accidentally click through onto your Google+ profile, completely missing your content.
How to Set Up Google+ Authorship
Decided to take the plunge and set up Goolge+ Authorship for your blog? First things first – if you don't use any Google products, such as Gmail, YouTube or Google Analytics, you'll need to set up a Google account. This is pretty straightforward – just fill out the form and click 'next step'.
You then need to set up a Google+ profile. This is easy to do – go to the top right hand corner on your Gmail account, and you should be able to see your first name with a '+' in front of it. If you click on this it takes you to the Google+ setup process. Make sure you use your real name and a photo you like of yourself, as this is what will appear in the search results.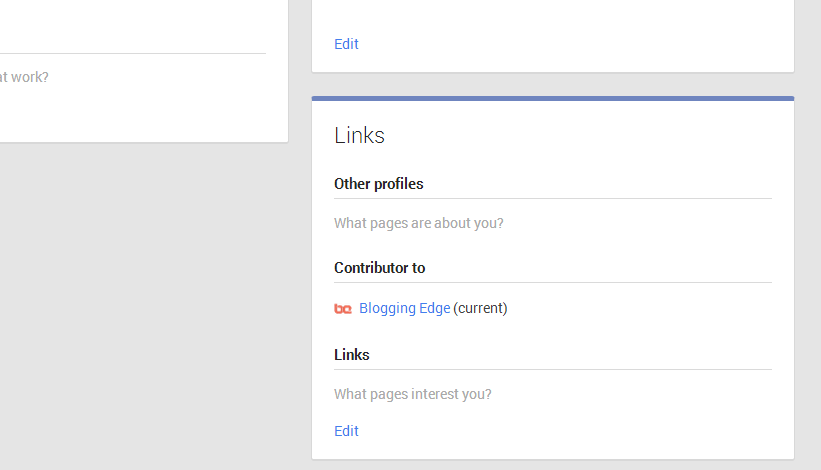 Once you've made your shiny new Google+ account, go to your profile page and then to your about page. Scroll down and you will reach a links section – click on 'Edit'. 
It's good to fill in all of these sections but the important one here is 'Contributor to'. This is where you need to list the sites you write for.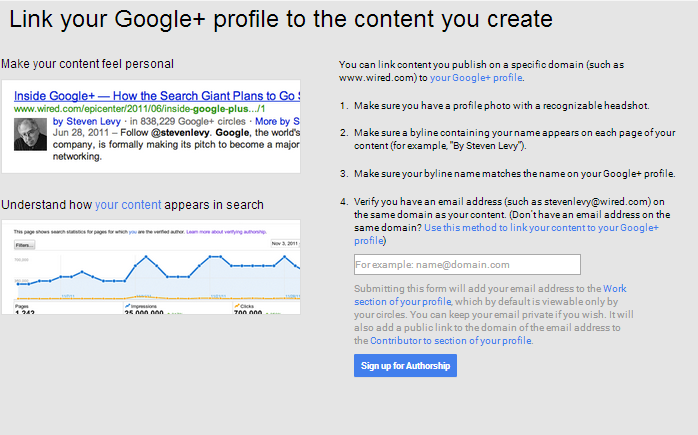 If you have an email address on the same domain as you content, the process is relatively simple. You just need to make sure all of your posts on your site clearly attribute you as the author, then visit the authorship page and submit your email address. You can read more about this from Google here.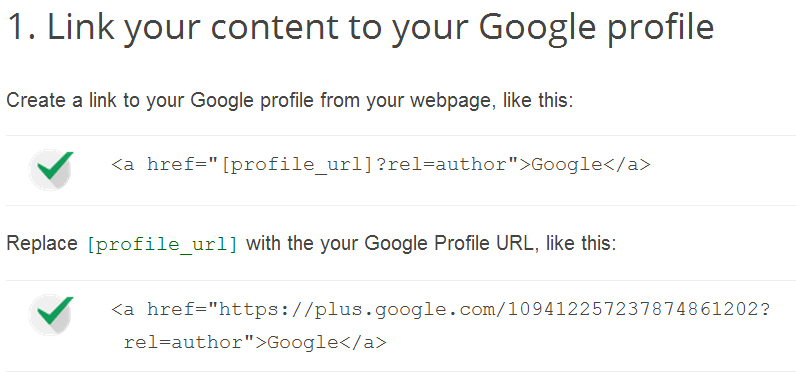 If you don't have an email on the domain you're writing for (often the case if you're writing a guest post), things get a little trickier – you need to add the rel=author tag to your content. From the bio or author box on your posts, link to your Google+ profile adding '?rel=author' to the url. You can read an explanation of the process from Google here.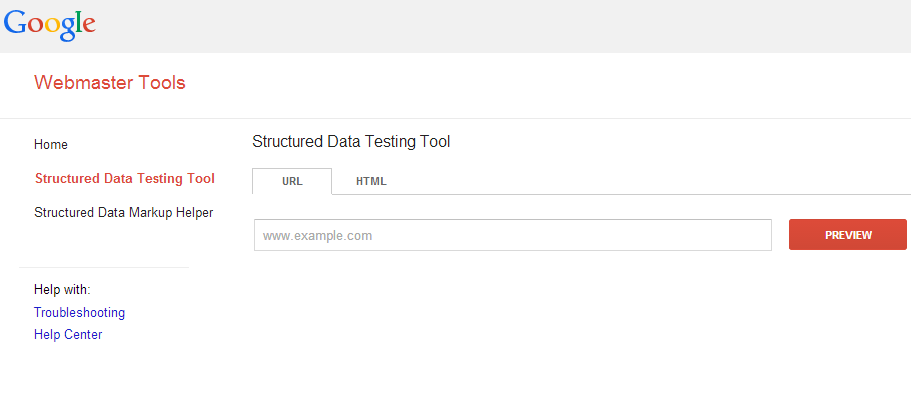 You can then use Google's Rich Snippet Testing Tool to check it's all working. Just paste in the url of the page with your content on it, and it will tell you if authorship is implemented.
Implementing Google+ Authorship can have numerous benefits for your blog, from allowing you to claim the content you create, build authority and trust and stand out in an overcrowded online world. However, it is worth bearing in mind that authorship can come at a cost, such as a loss of privacy.
Have you tried Google+ Authorship yet? Let us know in the comments.
Comments