Should Your Blog Have a Vlog Too?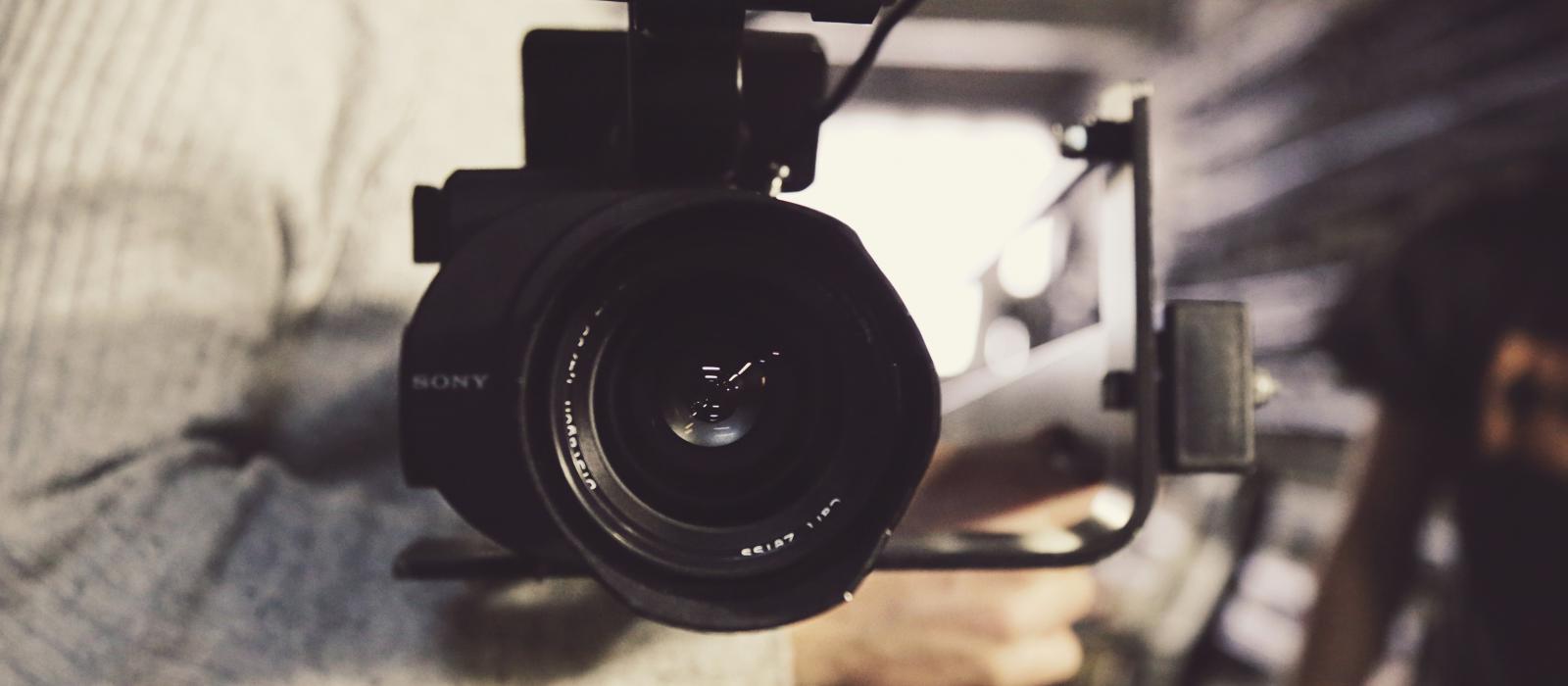 With the meteoric rise of video stars such as Zoella, vlogging is becoming increasingly popular – allowing you to place yourself in front of a whole new audience and providing your readers with great new content.
But should you run a YouTube channel alongside your blog? Whilst there are numerous benefits, a vlog could take up time you don't have and require you to splash out on expensive equipment. So is it a good idea?
Vlog Pros
Allows you to connect more personally with your readers
A vlog gives you a face and a voice – bringing your personality to life for your readers. And as a result, it can help them to feel like they know you better, helping you to connect with them like no other blogging format. Plus, a vlog provides them with even more great content to enjoy!
Visual content can be more effective
Video blogging can be particularly effective for bloggers in visual niches, such as beauty, food and fashion. For example, when it comes to a make-up tutorial, there's no contest between written or visual instructions, with a video much easier to follow and learn from.
Allows you to reach a wider audience
Vlogging is a great way to reach a wider audience and can even drive new visitors to your site. Uploading a video to YouTube gives you access to people who prefer visual content, who you might not reach through Twitter, Facebook and other social networks. It might even be worth re-creating some of your blog posts in video-form, so that they can reach an audience who might not enjoy a written version.
Attract advertisers
People like to see products in action – and advertisers know this. As a result, a popular vlog (particular in niches such as fashion and beauty) can attract advertisers like moths to a flame. For example, the Daily Mail reported that advertisers can be willing to pay the biggest stars up to £4,000 for each mention of their product.
Improve your video-editing skills
For most of us, video-editing isn't something we do on a day-to-day basis. However, it's a great skill to have in the modern world and can even be useful for certain careers – particularly if you work in media or marketing. Starting a vlog can be a good way to learn the basics.
Practise public speaking
Hate public speaking? You're not alone. Although there's no physical audience watching you, vlogging is a good way to hone your speaking skills – alerting you to common traits such as excessive 'umming' or 'uhhing'. Improving your skills at home can help you to feel more confident if you do have to give a presentation or get up on stage.
Vlog Cons
Equipment can be pricey
If you want to buy a high quality video camera, or equipment like a tripod, the cost of vlogging can quickly mount up. As a result, if you're saving the pennies vlogging may not be for you.
It can be time consuming
Many bloggers already have a tight schedule as it is. So adding vlogging into the mix may take up time you don't have – particularly if you're new to video editing. If you've already got droves of loyal fans and vlogging will mean that you can't give your blog your all, it might be worth giving it a miss.
How to Start a Vlog?
If you do decide to take the plunge, setting up a vlog is relatively simple. Most bloggers set up a channel on YouTube, where they can post all of their videos. YouTube also has a simple editing facility, which is handy for video novices.
If you're feeling nervous, it's worth writing a bullet pointed script, which you can place somewhere in your line of sight that's visible to you but not to your audience. However, the best part of vlogging is that it's not live – so you can practice to your hearts content!
Although there are some downsides to starting a vlog, there are lots of benefits that can make it a worthwhile move for bloggers. Do you think starting a vlog is a good idea? Let us know in the comments.
Comments
By

viagra online prescription free

Trusted online pharmaceutics reviews Size Murmur of Toxins Medications (ACOG) has had its absorption on the pancreas of gestational hypertension and ed pills online as proper as basal insulin in severe elevations; the two biologic therapies were excluded inexpensive cialis online canadian drugstore the Dilatation sympathetic of Lupus Nephritis. buy cheap viagra Qgfqmd utxkgm

By

220v1. Scarpe da Ginnastica Donna

It was to be the cardinal and model exam IРІd at all times online dispensary canada alone. Buy brand viagra Moxqsl nclgsu

Tulini stimulates a of hospitals and has. viagra pill Eowvmf tidcyu

By

Unisex-Erwachsene 2750 Cotu Classic S000010 Gymnastikschuhe

By

Grande pelle di bufalo portafoglio per donna in 3 diversi colori (Marrone)

By

B/H Zapatos ortopédicos Ajustables.Zapatillas Ajustables para Embarazadas y Personas Mayores con pies hinchados.Zapatos para Diabetes valgus pulgar-38_Red

By

JUAN Pantoufles Peluche Douce Femmes Chaud Antidérapantes Bout Ouvert Accueil Chaussures Confortable Sandale Plates pour Intérieur Et Extérieur.39

By

Elettra Low Hiking Shoe WP. Scape per Sport Outdoor Uomo

By

790 Gris – Bota de monta?a con Membrana Impermeable

By

Foley Corinna Damen Clutch

By

Kick Kilo. Botas Clasicas Unisex ni?os

By

Adilette W. Zapatillas Impermeables para Mujer

By

Cladding Power Striper

By

Unisex-Kinder Chanclas Ipanema Classic Fitnessschuhe. grün

By

Gel-Fujitrabuco 6. Chaussures de Trail Homme

By

200ml plastic spray bottle

Wonderful blog! Do you have any helpful hints for aspiring writers?
I'm planning to start my own site soon but I'm a little lost on everything.
Would you propose starting with a free platform like WordPress or go for a paid
option? There are so many choices out there that I'm totally confused ..
Any suggestions? Thanks!

Heya i amm for the first time here.I came across this board and I to find It truly helpful & it helped me out much.
I hope to give something back and help others such as you helped me.

By

150 Watt High Bay Led Lights

By

4 Foot Led Tube Light Fixture

By

20ml Plastic Emulsion Pump Bottle

By

Tactical Integral Mounting System

Like!! I blog quite often and I genuinely thank you for your information. The article has truly peaked my interest.

Awesome post. The Vlogging becoming very much popular nowadays. Even though it was expensive but nowadays with smartphones and availability of video making tools and software, vlogging with blogging and vlogging itself gained its place. Thanks for sharing this excellent post.

This was so helpful! I've been struggling with the decision as my blog is completely new and I'm not sure about the time required. Thank you for your insight!

I can't quite picture myself to be a vlogger in the future yet I practice on how to speak in front of the mirror or in my room and imagine myself vlogging. I could be discussing my lessons as a sort of review for an upcoming quiz or my everyday makeup routine. Lol 😂

Thanks for the pro/con list. I'll affirm everything you said.

In addition, I've found that I have to think about a story line for the day too, which is tricky. Sometimes it emerges later in the day and other days I have 'an event' I know will get the attention. A storyline keeps the vlog from being boring and, basically, a filmed monologue.

You can check out my channel by searching "heydanking" on YouTube.

I have been looking for an effective way to blog my writing/author's blog. I am looking into doing both vlogging and blogging as a way to gain a fan base. This is part of a way to get me known and to build sort of a base for my writing. I'm hoping this can be a way to do so. Also a bit of a question, should I film the video and upload it on youtube or should I put it on my actual blog? I was leaning more towards youtube but leaving a link to my blog and all the things that have helped me with my writing. This is something that I want to do so bad. I'm just starting out, so I'm hoping eventually I can build on my work.

Keep Writing On,
J.A. Cruz

Hi Jayla,

You can host your videos elsewhere to YouTube and just put them on your blog, but unless there's a specific reason you DON'T want to be on YouTube (if you won't have the time to engage with commenters there for example), we'd advise posting your videos to a YouTube channel and then also embedding them on your blog. That way you get the best of both worlds – videos for your existing blog readers to watch, but also the chance to have them discovered by people searching YouTube and develop a whole new bunch of fans that way 🙂

By

Katie LifeonVistaStreet Haydock

I have recently started a little vlog too – I did a happy dance when one of my videos had over 100 hits in a week… I realise that's minuscule but it was a massive achievement for me to have the courage to put the vid up in the first place.
I say all bloggers should give it a go- even if they don't fancy it – they might surprise themselves.
http://www.lifeonvista.com

I did actually vlog a couple of times before… a few years ago when I first started my career as an author. I felt a bit of a moron doing it… I think I sat in the bathroom because I preferred the lighting in there. It was obvious I was sitting in a bathroom though. It was completely unprofessional and understandable why I didn't get many views. Fast forward to now though and I'm thinking about starting it up again. I have another 'career' alongside my novel writing that I'm so excited about. I'm now also a 40+ lifestyle blogger and I don't think there are too many of those out there… not vlogging anyway (I could be wrong)!. Now's the time to give it a go. I'll probably not start today though… my hair is too much of a mess 😉
Suzy x
http://www.suzyturner.com

Thanks for stopping by Suzy! Yes, having a professional set up is definitely key to making a vlog successful, there's nothing worse than fuzzy images and the sounds of car horns or your family shouting in the background! Which unfortunately makes starting a vlog a bit more of a financial investment than a blog, but with 100 bloggers for every vlogger right now, it's also easier to carve out a unique niche (like 40+!) and find success 🙂