A Simple Guide to Pinterest Analytics
If you're an avid pinner you may have noticed a little addition to your Pinterest tool bar, besides the swanky new design – Pinterest Analytics is here to stay.
Studying your Pinterest audience is a must for any influencer to see exactly who you're reaching, what you're doing right and how you can improve. Sound cool? Of course it does! Understanding your Pinterest statistics could completely change your strategy, so here's our beginner guide to get you on your way.
So, where do I start?
First things first, you'll have to establish your account as a business account which is the only way you'll be able to access the new analytics tool. It's so simple to do; first you'll need to create your account, confirm your website to ensure you can correctly track traffic, and then add the 'pin it' button to your site – adding this code will mean that people can directly pin from your site.
Done this? Wonderful. Now let's get down to the nitty gritty of Pinterest Analytics.
Understanding your Pinterest profile
Now you're officially a Pinterest business, you've got the world of analytics at your fingertips. You'll be able to access your stats at www.analytics.pinterest.com, which are broken down into three sections – Your Pinterest Profile, People You Reach, and Activity – so let's start from the top.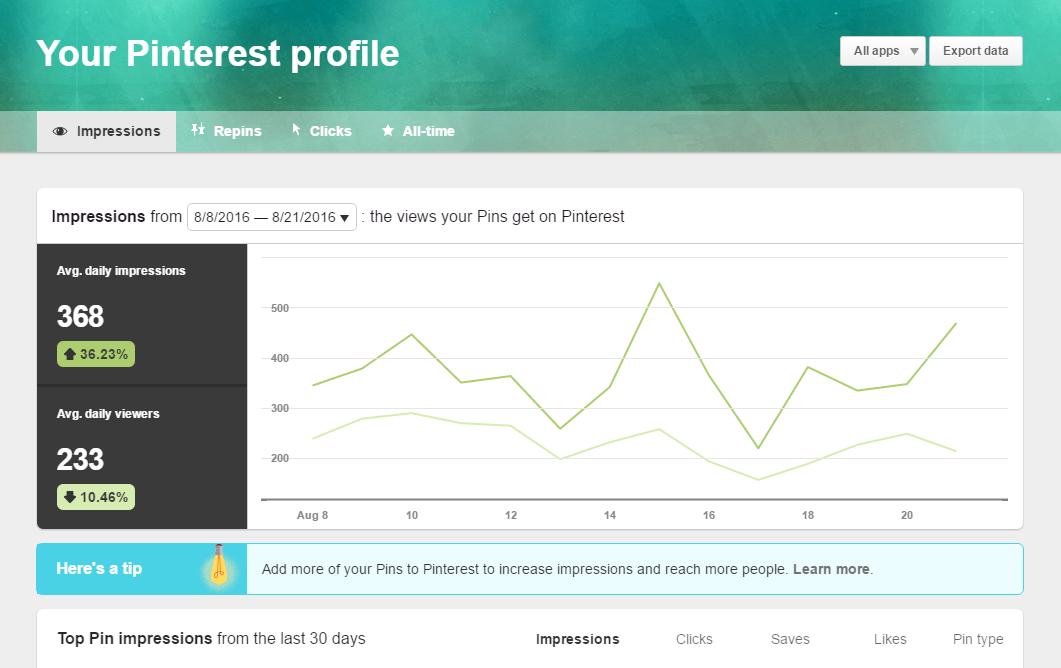 Your Pinterest profile is broken down into 4 tabs: Impressions, Repins, Clicks and All-Time. Impressions showcases which of your pins are being seen by the most people and which are driving the most traffic back to your site.
The Repins tab will show your 50 most repinned posts from the past 50 days and most pinned-from boards too.
The Clicks tab follows a similar trend, and – guess what? – shows you which of your pins and boards are getting the most clicks.
The last tab, All-Time, shows you your top 50 most repined posts ever, and your 'power pins' – those getting tons of clicks, saves and other engagement. This is ideal data when evaluating your Pinterest strategy to note what's working best for you and what types of things you should be pinning more of.
Who exactly are your pins reaching?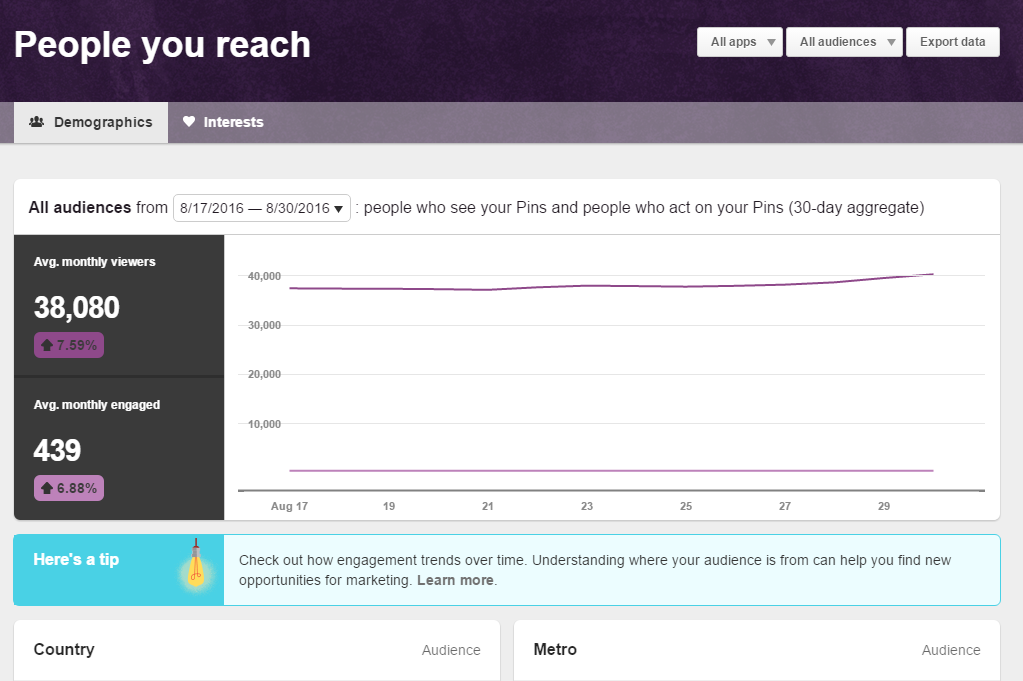 Next up you can review who exactly your pins are reaching. This is perfect when making certain the audience you're reaching on Pinterest is on point. People You Reach is divvied up into two tabs: Demographics and Interests. You can filter in the top right to see stats for everyone who sees your pins, or just your own followers.
Demographics shows exactly what you would expect: location, language, and gender. This is all great when looking to pin-point where and why your pins are being circulated, and who exactly you should be targeting with future content.
The second tab breaks your audience down by what they're interested in, which could potentially show you why your audience are following you, or give you ideas for new content!
What does this mean for your blog?
The third and final stop on our breakneck tour of Pinterest Analytics could be what is most important to you as a blogger. What do all of these stats mean in relation to your blog and how do they all translate into traffic?
The Activity tab will show you the impressions, clicks and more than pins from your site are getting – even if you didn't pin them yourself. After all, your readers are probably pinning their favourite posts or pictures directly from your site to their own boards!
The Original Pins tab allows you to see the 50 latest pins created from your website, who they've been pinned by, where they've been pinned to and the description given to them. This is so useful if you're wanting to see where your content is going without having to crawl the web.
Pinterest Analytics can be an awesome tool to help you become a better Pinner, and a better blogger too. The key is to not just look at the stats, but to use them to change and improve things. Did a particular DIY tutorial go viral? Create more like it! Is one of your boards outperforming all the others? Spend more time adding to that one, and creating content of your own that you can Pin to it. There's so much you can do with the info available to you!
What do you think of Pinterest Analytics? Let us know in the comments below.
Comments