Six Tips for Boosting Your Blog's SEO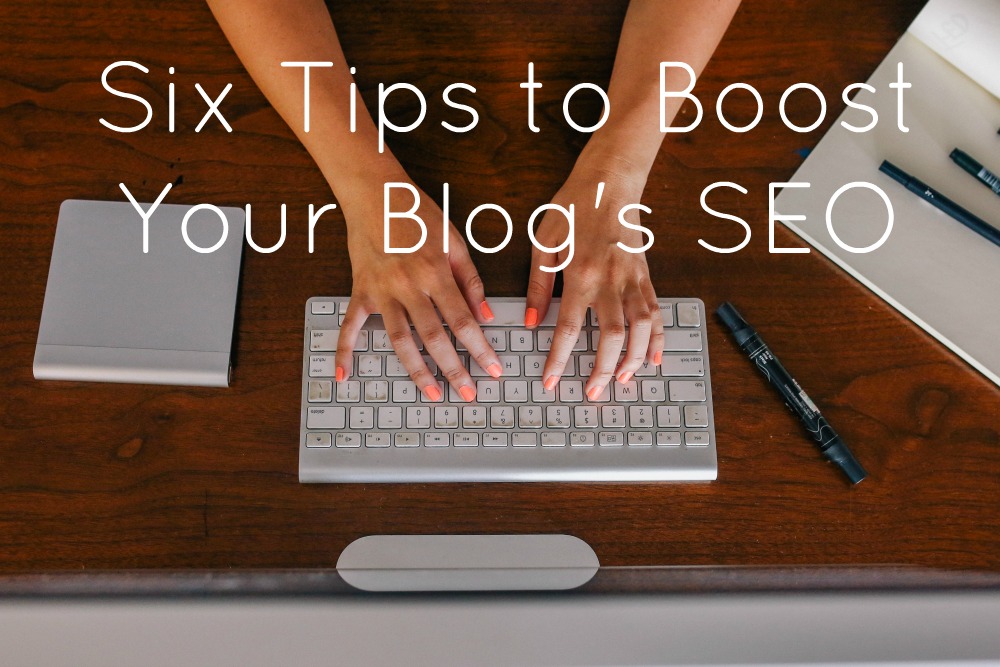 Just like the internet is a huge and varied entity, so is the practise that helps you stand out from the crowd online. SEO covers everything from the words on the page to your internal link structure, as well as the other sites that link to you too.
When trying decide which sites to rank first in a search, Google (or any other search engine) looks at the structure and meta-data of your site and then how your site fits in with the wider web of the internet. The essential thing to remember about SEO (search engine optimisation) though, is that optimising your site is as much about impressing your readers as it is about Google. Primarily, you should write for real people and developing your SEO shouldn't change this.
The tips in this article should help you create a site that works for both real people and 'robots'  – the ones that crawl your site to look at meta-data – and the more you learn about SEO, the more you'll realise that they are both looking for the same thing.
So without further ado, here are six simple ways to boost your blog's SEO:
Install an SEO Plug-in
First up, if you've got a self-hosted WordPress site, you'll need an SEO plug-in to help you with all the technical details of optimising your site. Getting a plug-in can help with all the SEO tasks listed below. Most SEO plug-ins are free and there's a handy list of ten of the best on Search Engine Land to help you choose which is best for you.
Using keyword research to optimise titles
Keyword research is a process where you learn the words and phrases that internet browsers are using to find interesting content, products, or useful information online. By looking at the trends in what people are searching for in your niche, you can develop content that answers their questions, or content that is simply optimised so that more people stumble upon it.
Song lyrics and famous quotes are all very well and good, but they won't help users find your review of X-Men: Days of Future Past, or your floral midi skirt from Topshop. Using the Adwords Keyword Planner Tool you can get ideas for keywords and phrases to focus on and optimise your existing blog posts so that they are in line with the phrases people are actually searching for.
Make sure you incorporate keywords into your titles naturally, and avoid stuffing your blog posts with them – this could break up the flow of your copy – upsetting readers – and won't do you any favours with Google, either.
Optimise Meta-Descriptions and Title tags
Meta-descriptions and title tags serve two purposes.  Firstly, they help search engines understand what your page is about, allowing them match a browser's query with your site. Secondly, it helps your blog appeal to an endlessly 'scrolling' internet-user. A well-written description is more likely to catch their eye, increasing your click-through rate.
If you want an example of how this works, take a look at our title tag and meta-description, above. The title tag is in blue and the meta-description is the few sentences beneath.
When you're writing your meta-description and title tag it's important to remember that every single one has to unique and specific to that page. Duplicating descriptions and titles will not get you anywhere. You can add meta-descriptions to your site by editing the HTML of your post, or by filling out the relevant fields in your SEO plug-in, if you have one. For more information, read Search Engine Land's guide to meta tags.
Create Alt-tags for images
Without alt-tags, Google can't recognise what an image depicts. Search within Google Images and you'll see that Google is not sorting pictures by what they depict, but what the alt text says they depict (which is why you can sometimes get some wildly unrelated results in an image search).
If you use photographs in your blog posts, you need to think about adding this extra information about the images you use to help Google understand the content on your site. To optimise your site properly, you should use the same keywords that you used as the basis for your title for your alt tag. You can see a complete guide on how to do this here.
Think about links
Links are a healthy part of the internet and it's what creates the web-like structure of the online world. As a result, the internet is not a place for static content, and any article can benefit from linking to inspiration, other guides and other opinions online.
There are two sides to this idea: internal and external links. Internal links are a way to attract traffic to your other content and enrich the experience of reading your blog, such a linking within a post to a similar post that your readers might benefit from. This reduces your bounce rate as every page offers more to keep your readers engaged. Plus, you're giving the search engines even more to index. On the other hand, linking to external sites can offer different – but arguably more important benefits. This could be through creating a blog roll of your favourite bloggers, or linking to a product or brand you mention in a review.
Create Easy to Read Permalinks and Slugs
This is another case where writing something that's easy for humans to read, makes things easier for search engines to read, too. Complicated URL structure stuffed with numbers and letters isn't appealing to anyone – human or machine. The easier your URLs are to read, the easier they can be indexed. Plus, if a reader hovers over a link to your site, they'll see a friendly explanation of the article in the URL instead of an off-putting code. Try to optimise each post or page URL to include relevant keywords and ensure the URL explains exactly what the page is about.
Making a few simple changes can make a huge difference to your blog. The age-old adage 'content is king' stands true within the blogosphere, but without the SEO groundwork, your blog could miss out when it comes to being visible to potential new readers.
Comments
Thank you for sharing this! I've found these tips very helpful!