Top 10 Blogging Resolutions to Make in 2015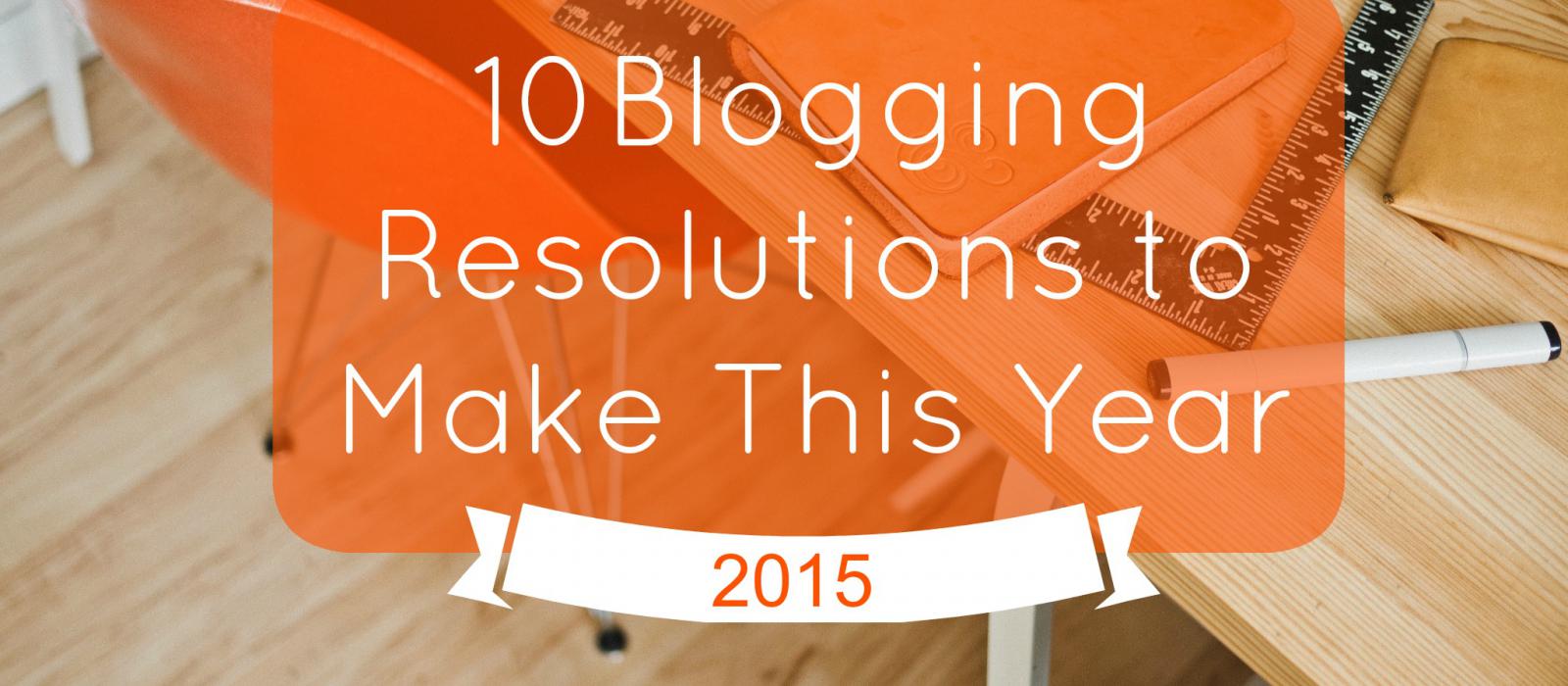 Gosh, we're nearly at the end of another year, how did that happen so quickly? If you're anything like us (which right now would be sitting on the sofa scoffing Christmas sweets), you might be thinking up some resolutions for the New Year.
Perhaps 2014 was the year you started blogging, or maybe it was the year you celebrated half a decade online. Perhaps you've been penning posts for double that time, or maybe, just maybe, your resolution for the year ahead is to start your very first blog. Regardless of your status, we've put together a bunch of blogging resolutions for 2015 to kick-start your blog (or vlog) with a bang…
Beat Blogger's Block
Struggling to generate several posts a week can take its toll on even the most creative-minded folk, so use the start of a new year to have a brainstorming session. Keep a notebook on hand to write down your ideas, consult your diary to think about topical or seasonal posts you could write and keep an editorial calendar so you know what you're planning to write about and when.
Still stuck for inspiration? Check out our post on generating blog ideas when you have none
Re-write Your About Page
If you haven't changed your 'About' page since you started blogging, then it may be time to hit 'refresh' and pen a new one to reflect the changes in your blog or your life in general. Don't have an 'About' page? Then there's no time like the present – having a page on your site to talk a little more about yourself, the topics you write about and what your blog is for is great for new readers and brands to get a flavour of what you're all about.
If you need a hand getting started, read our guide to writing a top-notch 'About' page.
Make Every Moment Count
Juggling family, education, or work alongside a blog is no easy task, which is why you should try to maximise your time in 2015. From jotting down ideas on your phone while waiting for the bus, to sending a email or two while the kettle boils – blogging little and often can help take the pressure off finding a whole evening to spend writing.
Want to start blogging on the move? Here are our favourite apps to help blogging on your smartphone a doddle
Attend a Blogger Event
If you're new to blogging then make 2015 the year that you attend your first blogger event. This could be a local gathering, a national conference or one you spot on our blogger events calendar. Either way, swallow any nerves you have and just go for it. We promise you'll meet like-minded folk, have a fun afternoon and even learn a thing or two.
 Your event checklist is all taken care of with our list of essentials to take to a blogging conference
Disclaim Paid Advertising
If you host sponsored posts or have been paid to write about a brand or product, it's essential that you disclose this information. This year in the UK the Committee of Advertising Practice (CAP) cracked down on vloggers, stating that sponsored content must be labelled and obvious to the audience before they choose to watch it.
Confused about where to start? Read our how-to post on disclaiming paid advertising
 Get 'Gramming
 Did you hear that Instagram is hot on the heels of Twitter in becoming the world's favourite social network? We think Instagram is a great addition to any blog and if you're not on the bandwagon already, hop on to share previews of upcoming posts, promote your blog content and yes, share a picture of that oh-so tasty slice of cake you're eating.
Get the most out of your photos with these awesome editing apps to help enhance your Instagram images
 Conquer that DIY Post
 This year, why not join your Pinterest heroes and write that DIY tutorial you've been putting off? Yes, it's harder to construct than your average post, but if you have a craft, recipe or blogging hack that you think your readers would love, plan out a tutorial and post it on your blog. Don't forget to pick a title that clearly sums up the content, and remember to take photographs to illustrate each step.
Wondering where to begin with your tutorial? Check out our top tips for writing a DIY tutorial post
 Schedule Like a Pro
 Some bloggers love it, others hate it but one thing is for sure – learning to schedule blog posts in advance can be a lifesaver when you want to take a break from your blog. Learn how to do this and write several posts in advance so that you can go on holiday without having to worry about your blog.
Don't sweat that up-coming break with this guide to holiday-proofing your blog
Start Vlogging
Video blogs ('vlogs') went stratospheric in 2014 with popular vloggers like Zoella launching beauty lines, books and even appearing on a number one single. Despite the criticism the medium has received recently, there's never been a better time to give vlogging a go.
Not sure where to start? Here are five tips for making your first vlog
 Reward your Readers
 If you choose one blogging resolution this year, why not opt for the one that rewards your loyal readers? They may have stuck with you through your exams, your pregnancy or that time you wore a poncho and blogged about it, so why not say thanks by running a giveaway for them?
 All your comping questions answered in our guide to running a successful giveaway on your blog
Are you making any blogging resolutions this year? Let us know in the comments below!
Comments