The Ultimate 2014 Christmas Gift Guide for Bloggers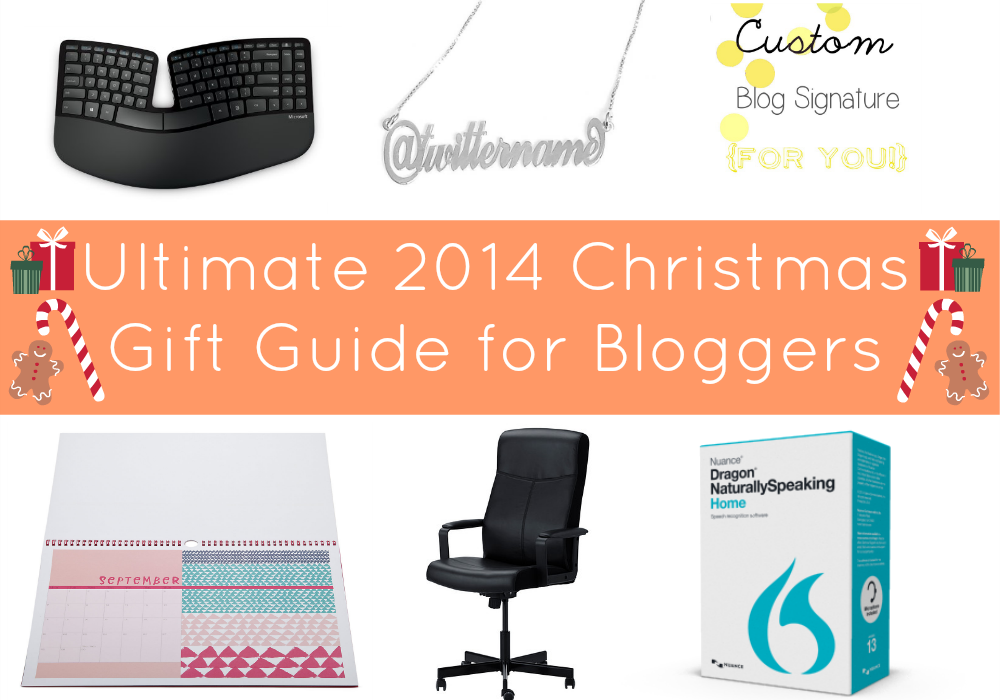 Christmas is almost upon us and Black Friday (amazing once-in-a-year deals, yay!) is just around the corner, so what better time to start shopping for gifts?
Whether you're buying for the blogger in your life or compiling your own wish list to not-so-subtly hint at friends and family, our round-up includes gift ideas for every budget.
Trust us, they'll all be appreciated and some will even leave bloggers wondering how they ever lived – and blogged – without them before!
Gifts under £10
Calendar: A good old-fashioned desk or wall calendar can be used to create an editorial schedule, keep track of blogger events or highlight important dates like a bloggiversary. Why not send them a personalised calendar filled with images from their blog posts?
Custom signature: Every blogger likes to add a bit of flair to their posts and whilst a great logo or site design won't come cheap, for this price you can treat them to a custom signature (you'll find tons of designers offering this service on Etsy) so they can sign off their posts in style.
Blogging guides or eBooks: For the serious blogger who wants to build a brand and possibly even earn a living doing what they do, books written by the blogging pros who've 'been there, done that' can help them get there. ProBlogger has some great guides such as Secrets for Blogging Your Way to a Six-Figure Income.
Gifts under £50
Blogger jewellery: Perfect for the blogger who's always looking for new and unique ways to promote themselves, you can now turn their blog's Twitter or Instagram handle into a piece of sterling silver jewellery.
Stock imagery: Know a blogger who doesn't really have time to take their own photos but still wants a blog that looks awesome? Treat them to a bulk purchase of stock imagery credits for a site like DreamsTime or iStockPhoto.
Tablet stand: Gift hunting for a travel blogger or a blogger that's always on the go? Help them to blog wherever they may be with a tablet stand – some even come with a built-in keyboard, like this all in one case, stand, and keyboard to speed up writing posts.
Gifts under £100
Desk chair: Blogging is awesome but it's impossible to do it without spending hours sat in a chair, typing up posts or editing images. A comfortable chair is a must! The best ones can be pretty pricey but IKEA has plenty under £100 that are much better than a hard wooden dining room chair or being hunched over a laptop on the sofa.
Ergonomic keyboard: All that typing can lead to aching wrists and hands, so treat them to an ergonomic keyboard. Microsoft's Sculpt Ergonomic was rated the most comfortable by The Wire Cutter and can be bought with a matching ergonomic mouse and number keypad too.
Voice recognition software:  Suffering from carpal tunnel or just want to do away with the typing altogether? Dragon Naturally Speaking voice-recognition software lets bloggers dictate their posts quickly and keeps their hands free to edit images at the same time or Instagram that awesome new nail look.
And remember, if you're truly stumped for ideas; just buy them something they love. From lipstick to laptops and from clothes to cooking utensils, always having a new product to feature on the blog can be costly and they'll appreciate the fact something has been gifted to them.
What blog-themed goodies are you hoping to find under your Christmas tree this year?
PS. Want even more blogger gift ideas? Check out our 2013 Ultimate Christmas Gift Guide for Bloggers.
Comments