Ultimate 2015 Christmas Gift Guide for Bloggers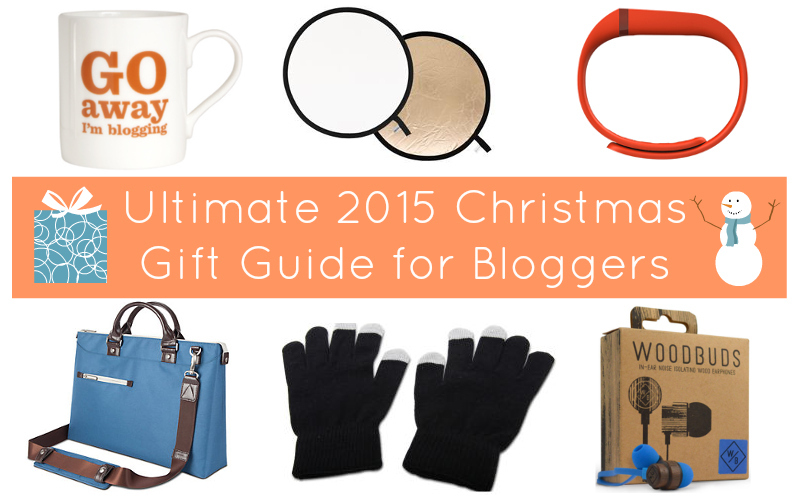 The days are getting colder and the nights are getting longer. In other words, Christmas is almost upon us!
Whether you're looking for Christmas gifts for the blogger in your life, or you're a blogger compiling your very own wish list, you're sure to find that special something here in our ultimate Christmas gift guide for bloggers.
Gifts under £10
Smart Gloves: Bloggers are always on their smartphones or tablets, even when they're on the go. So treat them to a pair of smart gloves, which will enable them to use touchscreens without exposing their fingers to the cold winter weather.
Caffeine Fix: Most bloggers fit blogging in around other commitments such as work, family or school. This can mean that they do most of their work early in the morning or late at night, usually fuelled by copious amounts of tea or coffee. This 'Go Away I'm Blogging' mug will be much appreciated, allowing them to get their work done while also keeping disruptions at bay.
Collapsible Reflector: Indoors or outdoors, any blogger's photography can benefit from using a reflector to achieve the perfect lighting. Jessops's collapsible reflector is perfect for taking out and about, or for tucking away inside a drawer when it's not needed.
Gifts under £50
Blog Planner: When it comes to keeping a blog on schedule and growing over the upcoming year, a good planner is an absolute must. Gifting one that's designed especially for bloggers is particularly useful – the Badass Blog Planner, for example, is a one-year workbook that includes over 60 worksheets to help bloggers evaluate and plan everything from blog posts to web design.
Headphones: Perfect for drowning out external noises and distractions, headphones make the perfect stocking filler for busy bloggers. These distinctive eco-friendly wood earphones by Woodbuds make great Christmas gifts, and they're ethical too – they're made from sustainable hardwood, come in 100% recyclable packaging, and part of the cost goes directly to environmental organisations.
Personalised phone case: Whether they're tweeting to their followers or posing for a selfie, a blogger's phone is nearly always on show. A personalised phone case emblazoned with their logo will let them advertise their blog and grow their readership even when they're on the go.
Gifts under £100
Laptop bag: Whether a blogger's taking their laptop on holiday or just to the local café, a high-quality laptop bag will protect their peace of mind as well as their most prized possession. While John Lewis offers a range of laptop bags and cases, we're particularly partial to this Moshi Urbana Briefcase – it's stylish, lightweight, and has enough extra storage space to keep all your other important bits and bobs secure.
Fitbit: It's easy for bloggers to spend far too long sitting in front of a computer screen, so why not give the blogger in your life a Fitbit to motivate them to keep moving? The Fitbit Flex is slim and sophisticated, with LED lights that track the wearer's progress towards their daily step goal.
Tickets to a Blogging Conference: Blogging conferences and events offer bloggers the perfect opportunity to take their blogging to the next level through networking, informative talks and practical workshops. Take a look at our list of upcoming UK blogging events for ideas.
Whether you're searching for a little something for the blogger in your life, or are preparing your own wish list for Santa, you're sure to find the perfect gift above – whatever your budget.
Which of these gifts would you most like Santa to bring you this Christmas? Let us know in the comments below.
P.S. Want more blogging-themed Christmas gift ideas? Don't forget to check out our gift guides from 2014 and 2013 for even more blog-themed goodies!
Comments