The Best Vlogging Cameras for Every Budget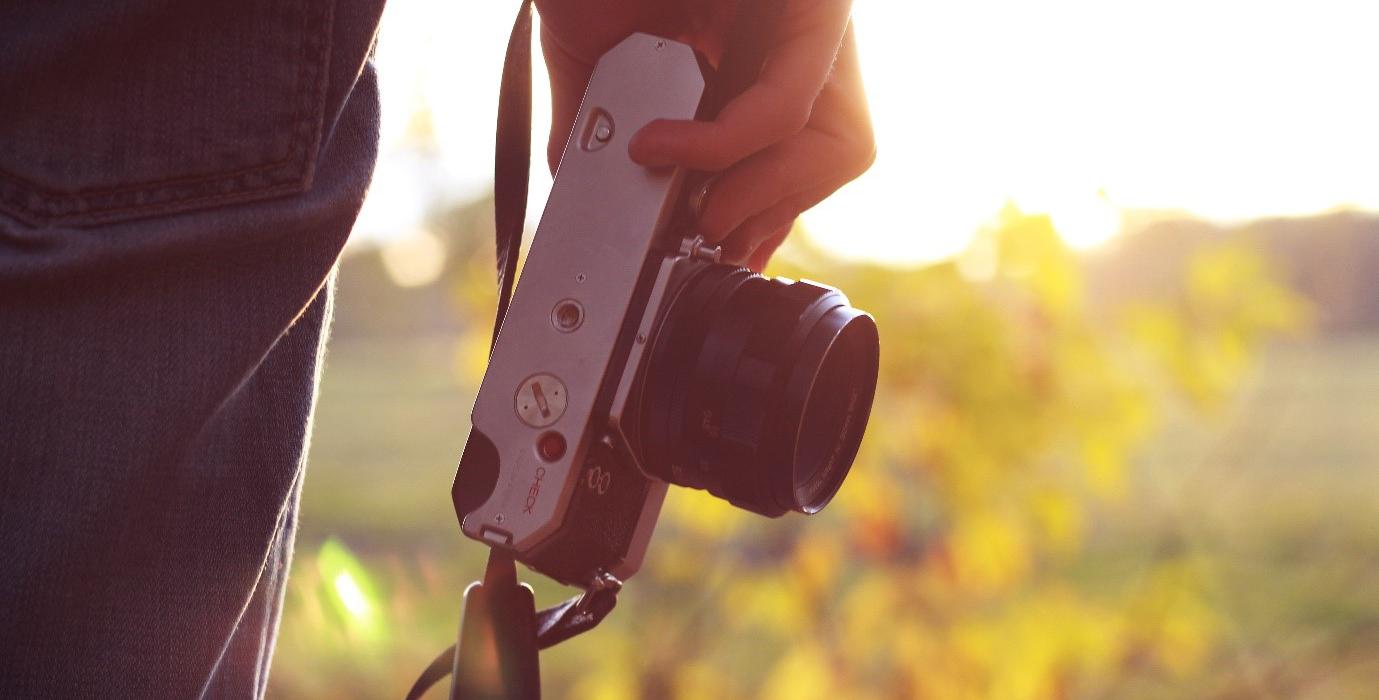 Image from Unsplash.
When it comes to vlogging, nothing will turn viewers off a video faster than a wobbly setup or grainy image quality. Fortunately, there are plenty of amazing cameras on the market that are ideal for vlogging while also offering fantastic value for money.
Here, we outline the best webcam, standalone and on-the-go vlogging cameras in every price range, including budget, mid-range and professional. So, whatever your budget and vlog type, there's sure to be something here that's right for you.
Best Webcams for Vloggers
A webcam is one of the most easy to use and budget-friendly vlogging cameras around, and is ideal for vloggers who film most of their videos at their computer.
Budget: Your laptop's in-built camera (free to use)
Most laptops nowadays come equipped with an in-built camera, making it the camera of choice for beginner or cash-strapped vloggers. While the quality of these cameras can vary, you can often improve image quality simply by playing about with the settings. Check out this ehow guide to find out more.
Mid-range: Microsoft LifeCam HD-3000 (from £18.14)
If your computer doesn't have an in-built camera – or if you're simply looking for a step up in terms of image quality – then the Microsoft LifeCam HD-3000 is a great mid-range option. It records HD-quality, TrueColor videos, and also has a 16:9 widescreen option to give vlogs a cinematic feel.
Professional: Logitech C930e (from £85.30)
If you're willing to spend more to secure a webcam of the highest quality, you can't go wrong with the Logitech C930e. It's HD, offers pan, tilt and zoom options, and has an intelligent autofocus that ensures amazing image clarity even in low lighting. Plus, it's easy to use and compatible with both PCs and Macs.
Best Standalone Cameras for Vloggers
If you're looking for a camera that has it all and gives you more control over the video options than a standard webcam, a standalone camera might be the best option for your vlog.
Budget: Sony Cyber-Shot DSCW810 (from £69.99)
This little camera offers vloggers fantastic value for money. While it may not boast every feature under the sun, it has all the basics you'll need to be getting started with – not to mention optical image stabilisation, which is the very best way to stop your videos from appearing shaky.
Mid-range: Nikon COOLPIX L840 (from £171)
This vlogging camera costs a little bit more, but ensures you'll get bang for your buck. Creative vloggers can take advantage of its impressive zoom lens, LCD tilt screen and high-performance vibration reduction to film exciting HD films – and then share them instantly using the built-in WiFi.
Professional: Canon EOS 70D (from £529.95)
This is the crème de la crème of vlogging cameras. It boasts some of the best quality HD video recording features about, coupled with an amazing autofocus system and a handy touch flip screen. Over all, it's easy to see why this is the vlogging camera of choice for popular YouTubers such as Zoella.
Best On-The-Go Cameras for Vloggers
If you're a spontaneous vlogger who never knows when or where the mood to vlog might hit, or a vlogger who likes to record videos while out and about, then an on-the-go camera is the perfect choice.
Budget: Your smartphone or tablet's in-built camera (free to use)
It's easier than you think to record high-quality videos using a smartphone or tablet – and, since most vloggers carry at least one of these devices on them at all times, it's certainly convenient when it comes to impromptu vlogging. For an in-depth guide to getting the most out of your smartphone camera, check out this Lifehack guide.
Mid-range: Polaroid Cube+ (from £128.99)
This affordable action camera can capture HD quality videos – and looks super cute while it's doing it. Its compact design makes it easy to carry in your pocket or bag, and it boasts some impressive video features, including slow-motion capture and time-lapse. Plus, it wirelessly connects to your smartphone or tablet so that you can easily see what you're shooting.
Professional: GoPro Hero4 Black (from £348)
If you want the best action cam that money can buy, this is the camera for you – its videos are cinema-quality, making it the action cam of choice for professional videographers. Plus, with its numerous video options and accessories, this camera is a great way to take your vlog to the next level.
As you can see, whether you just want to give vlogging a go or are looking to take your vlogging to the next level, there's a camera out there to suit every vlogger's style and taste.
What camera do you use to vlog? Have you tried any of the above, or do you have another model you'd like to recommend? Let us know in the comments below.
Comments
I'm using canon g7x for vlogging and i'm facing some problems but i have question to you, should i ask here ?
Happy Vlogging

I am personally using Canon G7 X! Anyways great article!

I started vlogging using the Samsung Galaxy S5, it did the trick for a while but after seeing how many YouTubers now have great quality I decided to upgrade. I currently use the Canon g7x, which is the choice of what most YouTubers use according to sources I've found. I've been very happy with it

I'm starting to vlog for my business blog and personal blog. I'm just using my phone camera to start with but will invest in better kit as I go along. I would love to get the Canon EOS you recommend as I have heard other vloggers say how good it is. I have the EOS 350D but that's over 10 years old now and doesn't record video! Love the good, better, best suggestions 🙂

Jenni Tulip
SocialRocks